Anyone who has a love of small towns or the country will enjoy living in a tiny house. A tiny house can be built anywhere, but many are located on wheels so they can easily be moved when necessary. Tiny houses typically range from 100 to 400 square feet and often include several amenities such as electricity, running water, heat and air conditioning. There is much debate about whether these homes are truly functional; for some this may mean that they have sufficient space to live happily while others believe that there must be more room than simply what's required for survival.
To make your tiny house planning easier, I have combined a list of 5 Amazing Tiny House Floor Plans Under 400 sq ft. 
Disclosure: Some of the links in this post are affiliate links. If you go through them to make a purchase I will earn a commission. Keep in mind that I link these companies and their products because of their quality and not because of the commission I receive from your purchases.
---
Why live in a tiny house?
A tiny house is the perfect way to go if you're sick of living in a shoebox and want more space for yourself while still being surrounded by nature. Tiny houses come in all shapes and sizes but they're usually around 500 square feet or less with a big porch out front so you can relax outside whenever the mood strikes! You'll also be able to enjoy some peace and quiet without having to deal with the noise of lots of people who live right on top of each other like back home where we share walls. Tiny houses are often pretty cheap, so they're great for millenniums.
---
5 Amazing Tiny House Floor Plans Under 400 sq ft:
Tiny Houses are a great way to save money on your dream home. They might look small, but they can have amazing features that you didn't even know about! Here are 5 Amazing Tiny House Floor Plans Under 400 sq ft.
1. Small Cabin Plans with Porch Harper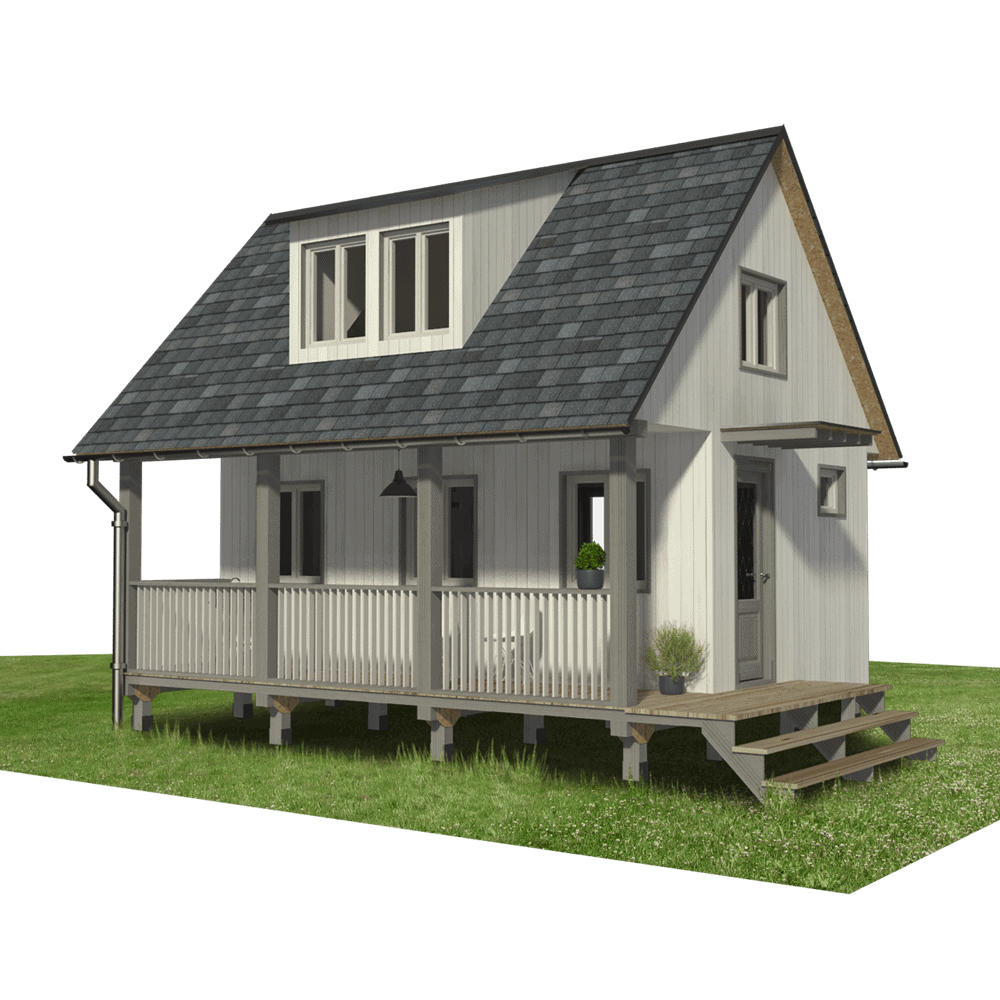 This tiny house has a comfortable bedroom and a cozy living room. Both the living room and the bedroom area offer a beautiful view through the porch. The roof covers the porch, so you can enjoy the fresh air even when it's raining.
Just imagine it, you make yourself some good coffee in the kitchen, conveniently designed as part of the living room area, and walk out on the terrace/porch to sit down in your favourite swing chair. After finishing your coffee, you walk upstairs – yes, this tiny house plan has enough space for a loft – to lay down on your favourite couch to read for a while.
2. One Story Small House Plans Quinn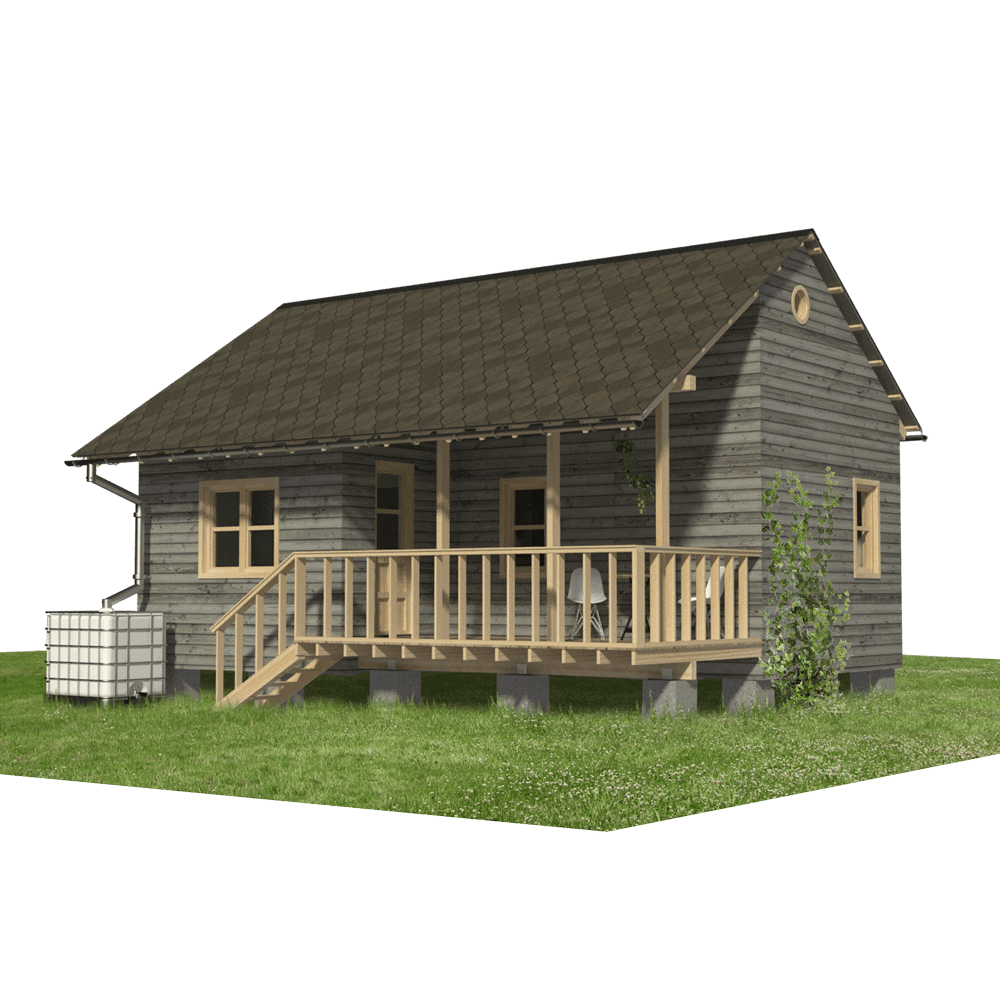 Let's keep it simple. You want a place to lay your head over the night while still being able to enjoy a little living space for your favourite hobbies or successful living, and you want a single-story house with a porch, a comfortable bedroom with enough space to lay down and enjoy the sunset as you watch it through the windows.
You don't need any unnecessarily lustrous two-story house built in the new-fangled 'modern style,' with shed roof and elevated grounds. Search no further! You've found your dream DIY house!
3. Simple One Bedroom House Plans Eliana
Simple One Bedroom House Plans Eliana is one of our small modern house plans with a porch. Eliana is an elegant combination of simplicity, minimalism, attractive house design, and efficient, eco-friendly living solutions to provide comfort and save you some money while protecting mother nature.
As the name of this tiny house plan indicates, Eliana is aimed to be simple and with one bedroom. The floor plan offers enough space for a bathroom, bedroom, and a living room with a kitchenette that can be easily turned into a dining room. On top of that, the house's front side offers, as is common with our cabin plans, a porch right under the roof. The overall style of this house plan combines elements of a classic cabin and modern simple house styles. The indoor space is furthermore designed to provide enough space both for you and storage.
4. Scandinavian Cabin Plans Maja
Maja is a small cabin perfect for a minimalist living lifestyle. The floor plan design works with space for a single bedroom house arrangement, with loft, storage room, bathroom, and a living room area with a kitchenette, with a terrace on top of that – acute porch to watch the night sky from. As the name suggests, Maja's building design contains Scandinavian traditional cabins with a gable roof.
5. A-Frame Cabin Plans with Loft Ruby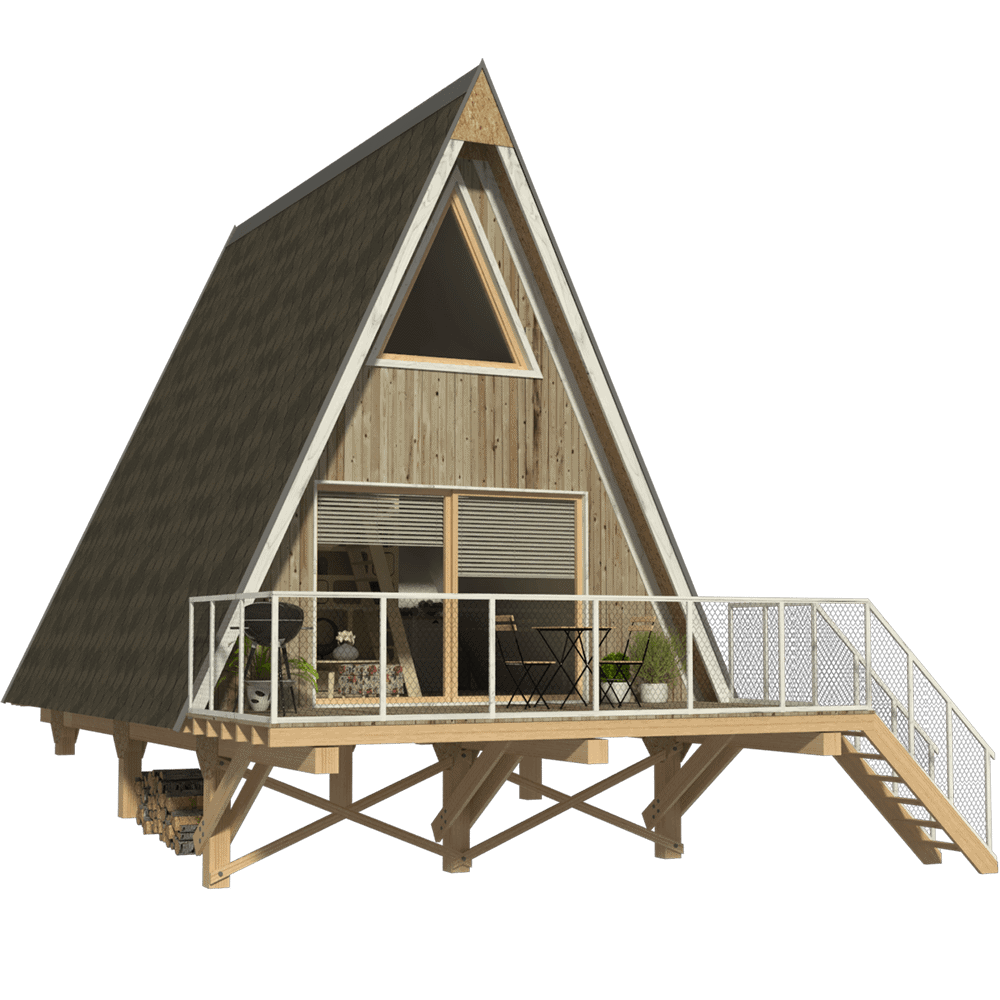 Ruby belongs to our one-bedroom A-frame cabin plans family of floor plans. But unlike our flagship product – Alexis, Ruby's got a porch! A-Frame houses are a very practical solution for eco-friendly living. Their construction allows for a great variety of energy-saving solutions.
Like all of our A-frame tiny house plans, the design allows for quick and easy yet durable construction. It is sturdy, durable, eco-friendly, and yet with a provocative modern design. The dispositions of this tiny house plan are two storeys, one master bathroom, master bedroom, living room with a kitchen area with kitchenette, garden storage, and a porch. A-Frame Cabin Plans with Loft Ruby is primarily aimed at lovers of alternative living, eco-friendly living, or as a weekend house.
---
FAQs – Questions You May Have
How much does it cost to build a tiny house?
In the last year, many people have seen a rise in tiny house ownership. These homes are typically less than 500 square feet and cost anywhere between $5,000-$10,000 to build. They usually come with a lofted bed and an outdoor porch as well.
How much do you think it costs to build your own home? If you're looking for something small that's environmentally friendly and sustainable then why not consider building a "tiny house?" Tiny houses are becoming more popular as they often cost less than $10,000 to build (not including furniture) which is significantly cheaper than buying or renting an apartment or condo!
What is tiny house living really like?
It's not always easy to imagine what it might be like when you hear the term "tiny house." I'll tell you one thing, living in a tiny home is anything but dull. It was tough for me to leave my old life behind and embrace this new lifestyle. What I had come to know as normal suddenly seemed very small and constricting, almost suffocating. The first few months were an adjustment period that required some patience on my behalf.
I think the hardest part about moving into your own miniature haven is convincing yourself that everything will work out just right with all of your stuff inside too.