Tiny homes are a great way to live in small spaces. They can be a perfect fit for people who want more freedom and less maintenance, but not the downsides of living in an RV or camper. Tiny house plans have become very popular as well, with many options available online for download. Here are 6 Best Two Story Tiny House Plans.
Disclosure: Some of the links in this post are affiliate links. If you go through them to make a purchase I will earn a commission. Keep in mind that I link these companies and their products because of their quality and not because of the commission I receive from your purchases.
---
Why would you live in a tiny house?
There are many reasons to live in a tiny house. You'll save money on energy bills, you'll have more time for yourself and your family, and it's easier to clean! Tiny houses are also super eco-friendly.
You might be asking "why would I live in a tiny house?" but we've got the answer right here. There are tons of benefits to living in one, including lower utility costs, more free time with your loved ones, and an easier-to-clean design. So stop looking at that big old home you can barely afford – come see what life is like inside one of our beautiful structures today!
---
Best Two Story Tiny House Plans:
1. Two Story Shipping Container Home Plans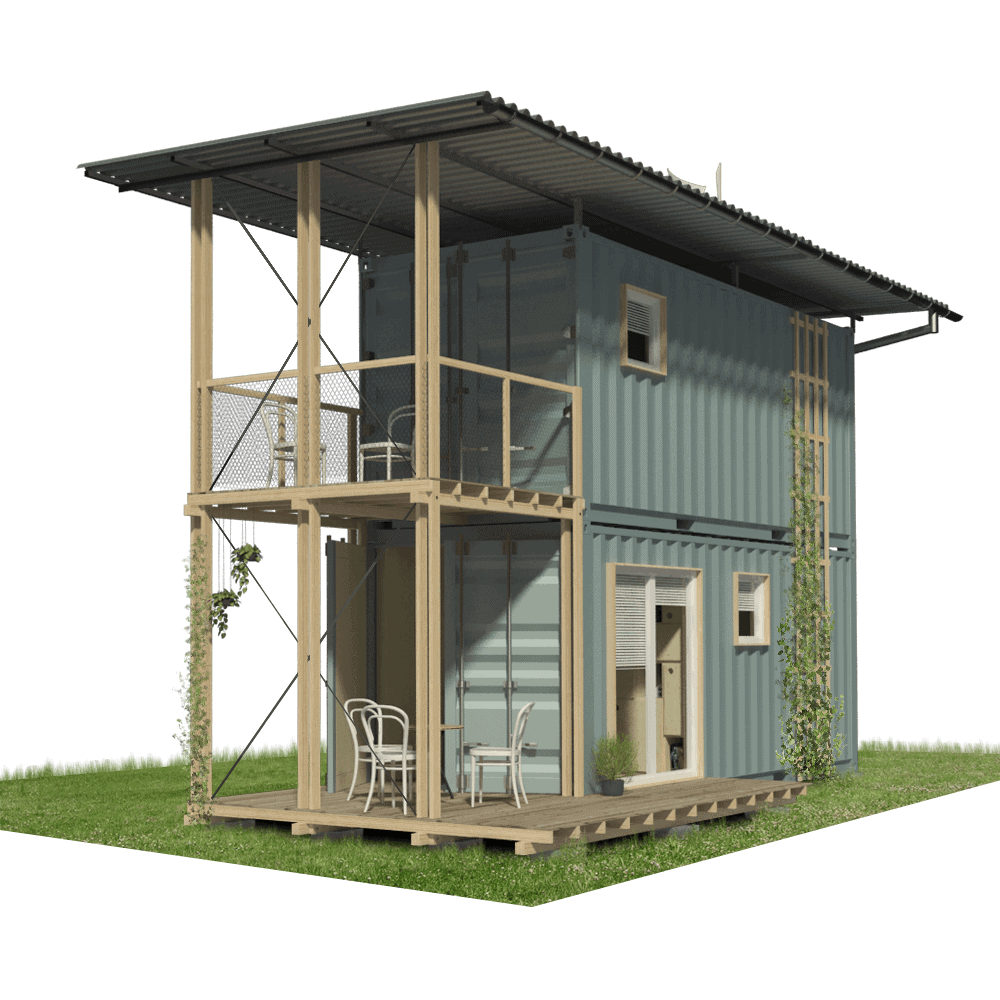 Love recycling older but still useful materials? Are you into alternative living solutions with original and unique house designs? Then 2 story shipping container home plans are the right type of floor plan for you.
As the name signifies, this unique house design is a two-story building designed to appeal to modern style houses. But that's not all, the revolutionary style allows for great spacious rooms and the building being two-story, there is room for a balcony too, and all that is roofed with a flat roof on which you can use for gardening or hold sun energy collectors. Plus, the first floor has a porch.
This alternative-living building's main advantage is the price of materials and its sturdiness that allows for all year use as it can survive even frigid winters if well insulated. 2 Story Shipping Container Home Plans is a house perfect for eco-friendly housing enthusiasts who like to save up and love recycling.
2. Two Story Round House Plans Eleanor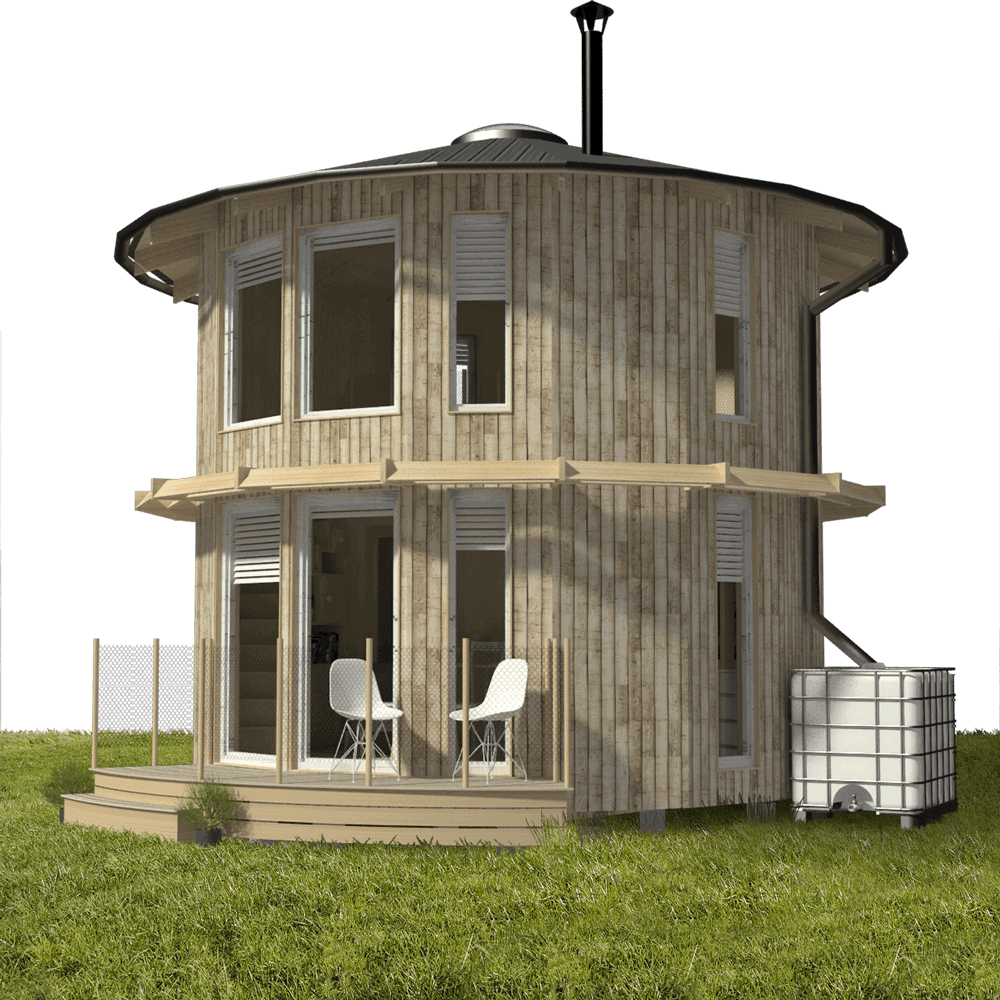 The absolutely adorable Eleanor small house plans are here for you to order! The roundhouse is uneasy about planning, but having a closer look at the plans, everything within the space works, and you're not wasting any room.
You will find the living room with an entry to the kitchen zone and the door to the bathroom on the ground floor. Alongside the curved wall, stairs are leading upstairs to the loft where the bedroom is. From there, you have an overview of the whole space and a proportionally generous number of windows. The kitchen is divided from the living room by the beams that, besides having a nice visual touch to space, also bear the load from the loft slab.
3. Two Story Flat Roof House Plans Billie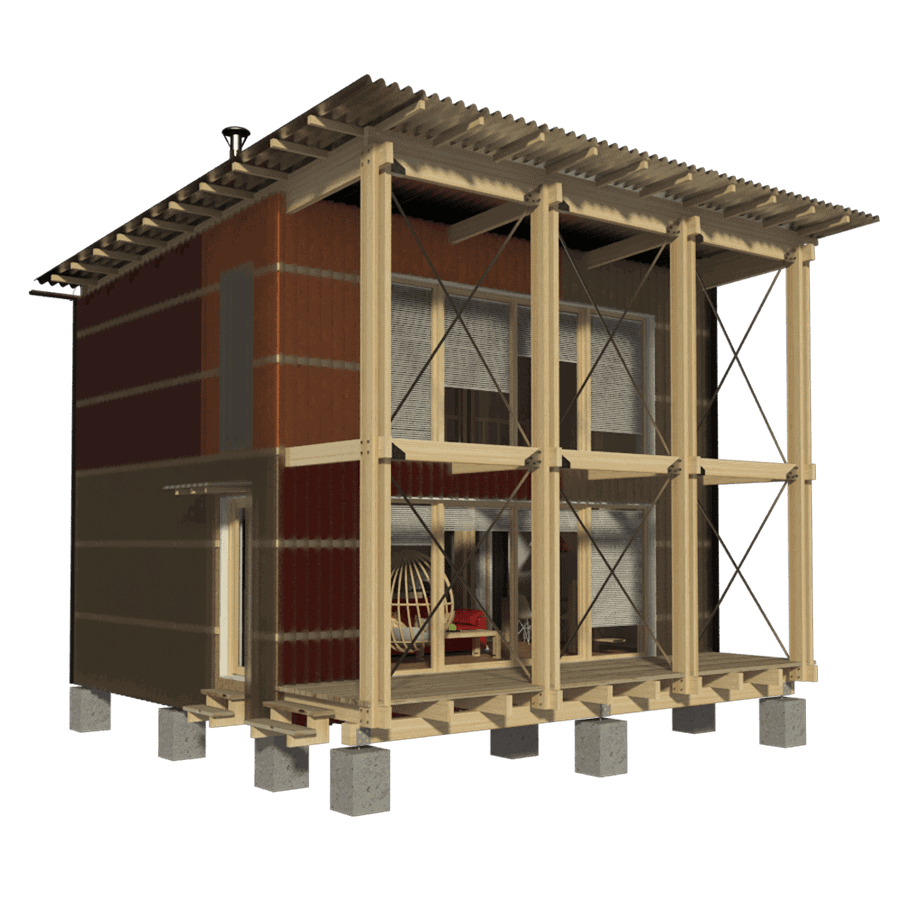 Billie is one of our loveliest two-story flat roof houses. Its wooden appeal makes it ideal as a carefree summer cottage and a cozy warm winter shelter.
The most welcoming part is the front porch. Designed as a place to admire the beauty of the place where this cottage might be located. You may enter the building through glass doors directly from the porch or use the side door. Either way, you step into a light, open and spacious room. This main room is the heart and soul of this two-story flat roof house. It is where you can work or relax on the sofa, prepare some delicious food in the kitchen, and few steps away, you can experience this deliciousness with your family or friends at a dining table. When you are finished with whichever activity, you may want to appreciate the comfort of a bed. For this, you need to take the wooden steps leading to the second floor. Two bedrooms are awaiting you.
4. Small Two Story House Plans Judy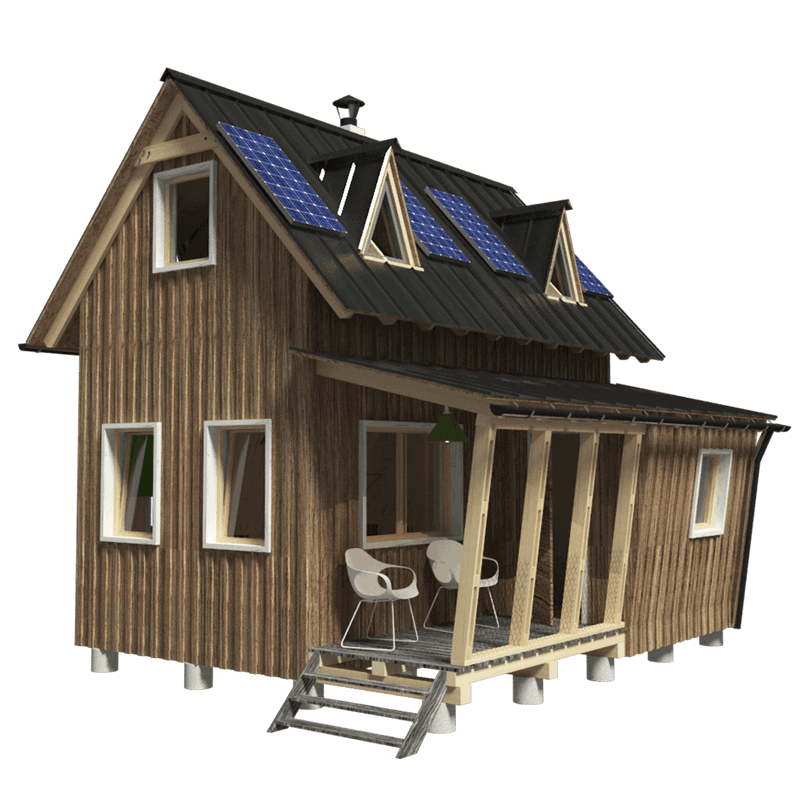 Ladies and gentlemen, we present to you: JUDY! Judy is a two-bedroom house plan from our palette of tiny houses with porches.
The first level combines the living room and kitchen, bathroom, and storage. The second story is intended for bedrooms. The roof has two gables on each side and the second floor provides enough space to sleep up to 6 people. Like our chalet plans, clerestory cabins, or small cabin plans, Judy is designed for leisure living. Moreover, Judy has elevated foundations, which are designed not only to provide an elevated view but also to save heat and prevent the accumulation of humidity. To make the best use of the elevated grounds, we designed a little porch for you to rest on. You, too, can live your own dream. Start building today with our easy-to-follow step-by-step guide!
5. Tower Cabin Plans Arianna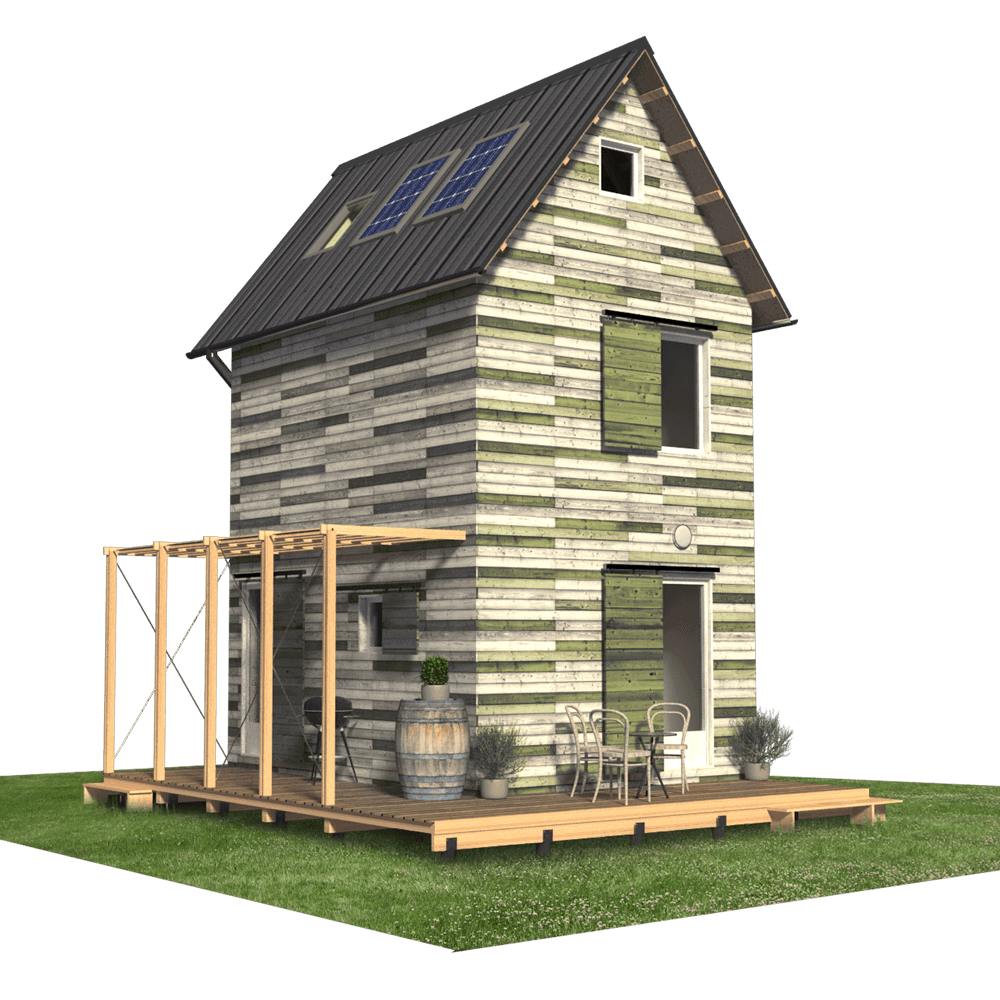 Tower Cabin Plans Arianna is a 2 bedroom 2-story house with a ceiling designed for the comfort of a larger family of alternative living enthusiasts who like saving money as well as mother nature. Like all of our cottage plans with a porch, Arianna offers great space thanks to furniture and storage areas' efficient organization. Altogether, Arianna has three-story – two-story and a ceiling. The bottom ceiling is designed as the living room area with a kitchenette, bathroom, and storage. Furthermore, the whole house is surrounded by a large porch that offers enough space to fit a table with a grill for your barbecue parties. Passing by the couch, let's walk upstairs to the next floor to find either one big master bedroom and an office or a bedroom room. But that's not all! Because this is a tower house, Arianna has yet another floor down the sleeve, or more precisely, under the hat. That's right! There is a big space for storage or even a smaller bedroom!
Because we know that our clients care about mother nature just like us, all of our house plans are designed to be eco-friendly solutions-ready. As you can see from this floor plan's design pictures, the roof offers enough space to fit several solar panels.
6. Modern Home Building Plans Dagmar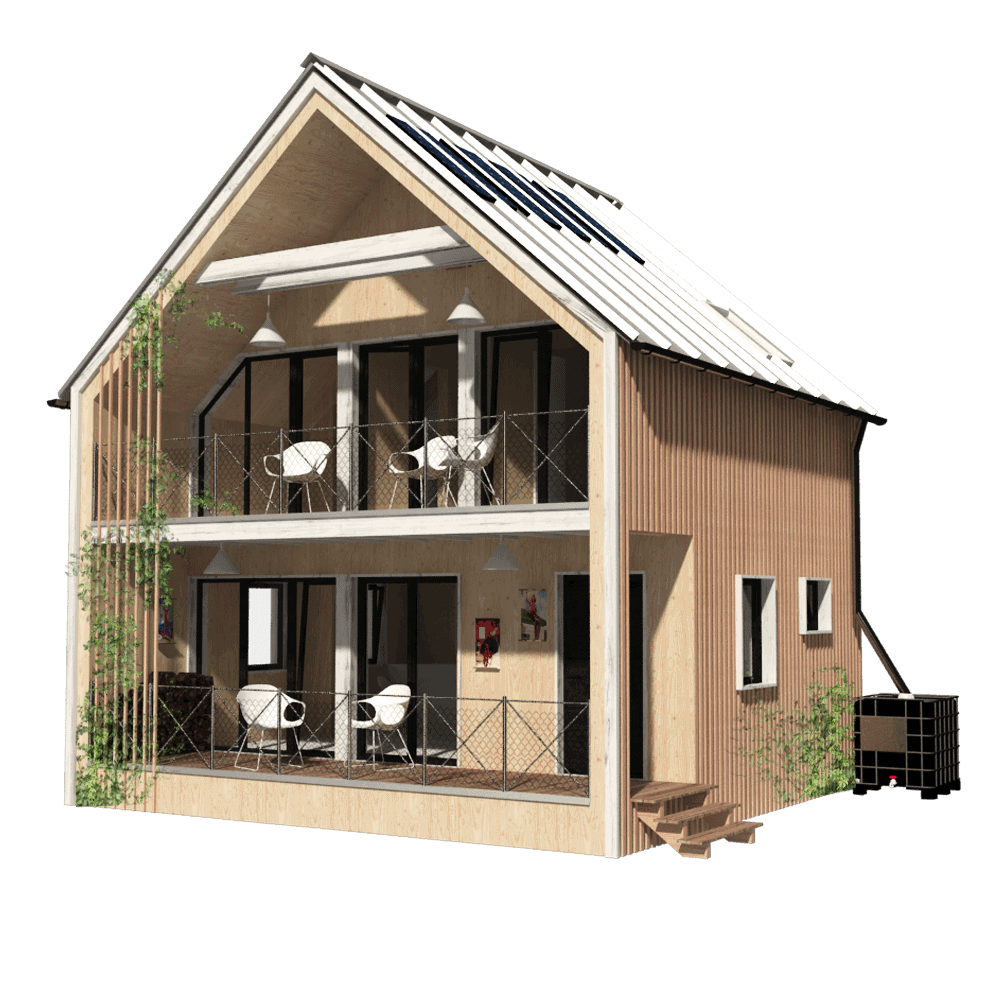 Dagmar is a two-story, two-bedroom house plan designed especially for modern families. Dagmar is designed in modern-traditional style, with a gable roof and two porches, one on the first floor and the other on the 2nd. Dagmar can be used as a family house designed to provide shelter for a family throughout the entire year, or as a cottage for summer holidays, or as a weekend house for parties. Its style perfectly blends into practically any environment, from big cities, through villages, to forests.
The first floor is designed to provide space for three rooms: kitchen-living room, hall, and bathroom. The second floor provides space for two bedrooms or one bedroom and an office. The first floor also has a porch covered by the second-floor balcony, which can also act as a porch and is sheltered by the roof. As is standard with all of our products, our designs also work alongside mother nature: you can add sun collectors on the roof or add a water tank to collect water for reuse through the drainpipes, and so much more.
---
FAQs – Questions You May Have
How much does it cost to build a two story tiny house?
Well, who's the contractor? What are your material costs? How much did you spend on land and how deep is it?
The cost of a tiny house will depend on many factors. The average cost of building a two story tiny house yourself is around $10,000-$30,000. If you hire a builder to do all the hard work for you, you're looking at around $20,000-$60,000.
Is it cheaper to buy or build a tiny house?
Many people struggle to make ends meet, but the answer is clear. Buying a tiny house is cheaper than building one, and there are many benefits that come with it as well. The decreasing price of materials has made it much more affordable for regular folks to get in on the trend.
Many people want their own little space where they can feel at home, so why not look into tiny houses? You may find an adorable cottage by the sea or a cute little cabin in the woods. These smaller homes offer plenty of privacy and freedom while still fitting your budget without breaking strain!
Can you build a tiny house for $10,000?
Tiny houses on a budget are an excellent way to save money. If you're willing to assemble the house yourself, you may be able to do with for as little as $10,000. But most people can't afford that. So if you don't mind investing in a prefabricated model, there's no reason why your tiny house couldn't cost less than $10,000