There's nothing quite like eating homemade soup on a cold winter day. Enjoy these 20 warm and cozy winter soup recipes!
Browse our selection of food and drink related content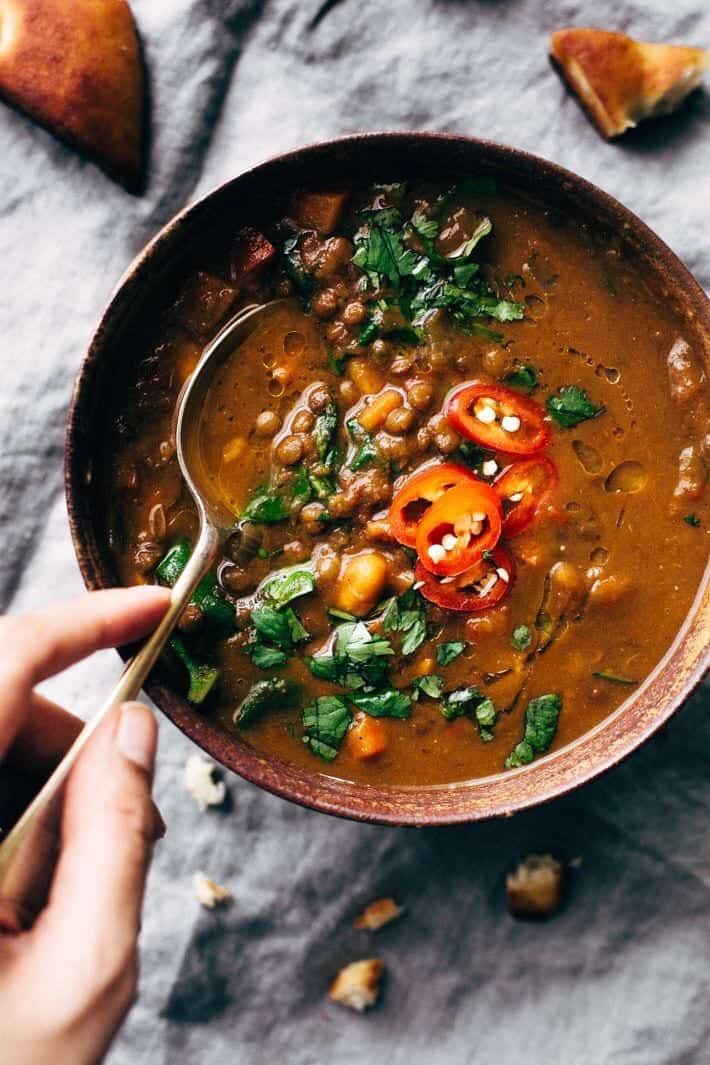 Article image from – LittleSpiceJar
A soul-warming Moroccan sweet potato lentil soup recipe. This soup is made in the slow cooker and requires hardly any work at all. Plus, it makes the whole house smell warm and cozy!
Article image from – LaurenCarisCooks
An inflammation-busting carrot, ginger and turmeric soup that's absolutely bursting with fresh, warming flavours!
Article image from – SlimmingEats
Make up a big pot of this delicious Cream of Tomato Soup – a perfect recipe for the whole family.
Article image from – FussFreeFlavurs
Spiced Pumpkin Soup is full of delicious fall flavours: carrot and sweet potato and perfect for American Thanksgiving. This recipe is Gluten-Free, Vegetarian and can easily be Vegan, Paleo and Whole 30 friendly with a few tweaks.
Article image from – NeilsHealthyMeals
This leek sweet potato rosemary soup is addictive. The combination of flavours marinates together perfectly creating such a delicious creamy comfort soup. Not only that, it's really simple and quick to make too, in less than one hour!
Article image from – CafeDelites
Homemade cream of mushroom soup is full flavoured and so easy to make, you won't buy soup in a can again!
Article image from – SuperGoldenBakes
A vibrant soup full of goodness: spinach, zucchini, leeks, potato and coconut milk. Serve with garlic croutons for a quick meal.
Article image from – BudgetBytes
Quick tomato soups have always been one of my favourite comfort foods, and this time I upped the game with a jar of roasted red peppers and a butter-and-flour roux to give the soup extra body and richness.
Article image from – BeautyBites
I made this tasty & spicy detox soup last week, because I had lots of leftover broccoli and didn't know what to do with it. And I needed something detox to fool my mind that I hadn't eaten any sugar. This broccoli and red lentil soup came out delicious and I just had to share it with you.
Article image from – GimmeSomeOven
This Cozy Autumn Wild Rice Soup is full of hearty seasonal vegetables and wild rice (plus chicken, if you would like), it's wonderfully creamy and comforting, and easy to make in the Instant Pot, Crock-Pot or on the stovetop.
Article image from – CookingLSL
Easy Lentil Potato Soup Recipe – quick and simple to make, chunky, hearty and comforting meal, perfect for the cold weather. Nutritious lentils, rich in protein and fibre, combined with potatoes for a healthy and flavorful soup.
Article image from – KitchenSanctuary
Oven cooking the veg until slightly charred adds lots of extra flavour to this comforting Cheesy Roasted Vegetable Soup. Throw in some Parmesan for a creamy finish.
Article image from – InsideTheRusticKitchen
This cinnamon pumpkin soup is the perfect way to cozy up this Autumn. It's sweet and comforting topped with crunchy spicy pumpkin seeds and a dollop of Greek yogurt.

Article image from – AheadOfThyme
I love everything about this time of year! I love the fashion (the scarfs, gloves and hats), I love the outdoors (the red and orange falling leaves and the snow-capped mountains), and I love all the seasonal vegetables and fresh herbs. Pumpkins, squash, yams, thyme, rosemary and sage…. Need I say more? If I could give the holidays a "taste", a spoon of this roasted butternut squash soup would pretty much be that "taste".
Article image from – TheRusticFoodie
This Cannellini Bean, Carrot, and Kale Soup recipe is hearty and healthy! It's rustic comfort food full of flavorful veggies. Perfect with crusty bread!
Article image from – AmbitiousKitchen
The BEST chicken soup you'll ever eat is the best homemade nourishing healthy soup when you're feeling under the weather. Packed with anti-inflammatory ingredients like ginger, turmeric, garlic. BEST SOUP EVER!
Article image from – TheForkedSpoon
Leek and Potato Soup, made with healthy vegetables and creamy potatoes, is rich and comforting without the need for heavy creams or butter. Perfect for lunch, dinner, or served as an easy holiday starter, you'll love this healthy Cauliflower Leek and Potato Soup.
Article image from – CurryTrail
This thick, creamy, delicious soup is one of the easily soup recipes, it takes about 30 minutes to make. And you need just a handful of ingredients which mostly will be in your pantry for sure. Now isn't that tempting enough to try this soup? GO ahead try the soup and share your feedback with us.
Article image from – EatWell101
Broccoli Cauliflower Soup — A super nutritious, hearty and delicious soup ready in 15 minutes. Paleo/low carb/whole30/gluten free friendly, it is loaded with cheesy broccoli and cauliflower flavors. Make a double batch and freeze it to have plenty of leftovers for the coming weeks!
Article image from – SheWearsManyHats
This easy Verde Chicken Soup Recipe is so flavorful and healthy too! Made with salsa verde, chicken and white beans a bowl of this soup is a tasty way to end a chilly day.