Acrylic paints are are easy to use, flexible, and the colors are really vivid. Brushes can be washed out in water and water is also the only thinner you will need so it makes using them a lot easier to use. Some artists consider them inferior to Oil paint, but if used well they can give you fantastic results.Another fantastic reason to use acrylic paints is you can paint on just about anything. You can use paper, card, canvas or even porous materials like wood and stone. Using paper it is best to stretch the paper first like you do with watercolours but it isn't always necessary if you are using thick paint with no washes.
You will see some more reasons below and to learn more, we have several acrylic painting tutorials you will find really useful. Just search 'Acrylic. In the search bar to see them all.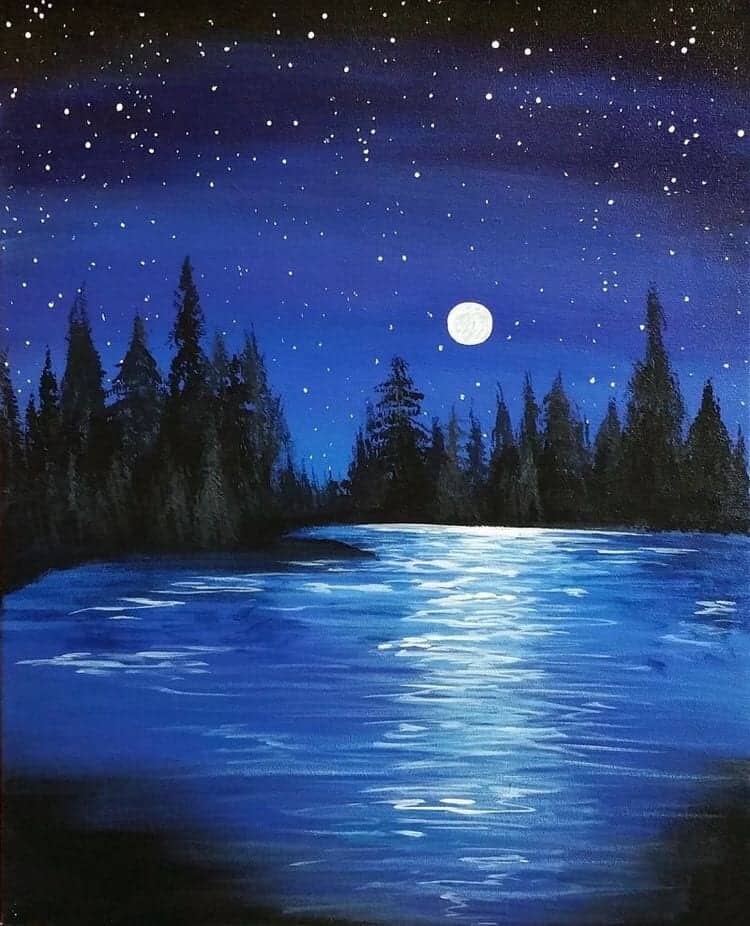 5 reasons why you should use acrylic paint
There are many reasons to use acrylic paints and here a 5 that can make a real difference to your painting.
1-Acrylic Paints Are Water Based
Because acrylic paints are water based the only thinner and brush cleaner you will need is water. This makes using them really easy compared to oil paints.
2-Acrylic Paints Dry Really Fast
The paint dries really fast so you can work quickly and paint over anything you aren't happy with. The colour you paint is also less affected by the colour of anything you want to paint over.
3-Acrylic Colours Are Really Vivid
The colours are really vivid and naturally opaque. This means the colours you mix on your palette are likely to be the same colours you see in the final painting. Acrylic paints are much less affected by the colour of the material you are painting on.
4-You Can Paint On Any Surface With Acrylic Paints
You can paint on pretty much any surface. The sticking power of acrylic paint is great and resists peeling. It is very U.V. Resistant too so wont fade over time as much as some paints do. This means you get a long lasting colour on anything you want to paint.
5-Acrylic Paint Is Waterproof And U.V. Resistant When Dry
Once the paint is dry it is waterproof, so acrylic paint is great for anything that you want to leave outdoors. I have seen some fantastic painted plant pots done with acrylics and they can create fantastic door signs too.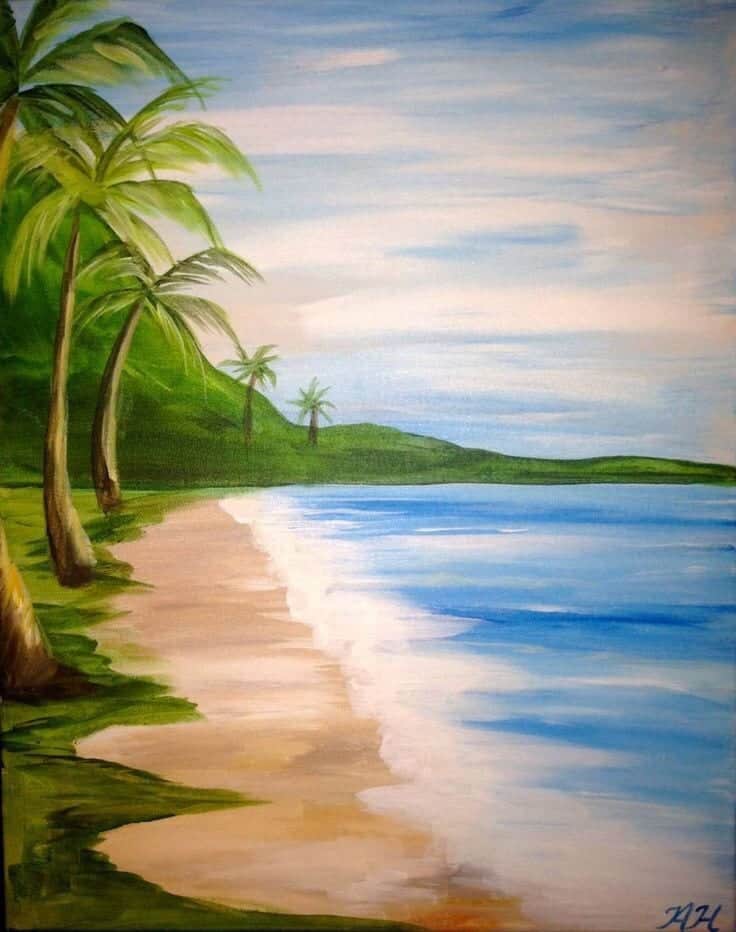 Why do artists use acrylic paint?
Artists use acrylic paint for many different reasons. Personally, I love the fact they dry fast. It means I can paint quickly. Getting creative ideas down fast means you don't loose that spark of an idea that is vital to any painting.
Because they are water based it makes painting outdoors really easy. If you like to paint landscape paintings this means you don't have to carry thinners and brush cleaner around.
Because the paint is generally thicker and faster drying than watercolours it also means you are less likely to get drips if you are painting on a vertical surface or using an easel.
The colours of good acrylic paint are vivid and easy to mix so you can achieve any colour you need very easily. There are an amazing choice of colours, but remember, technically any colour can be mixed with the 3 primary colours of blue, yellow and red in your paint box. Add white and black and you can adjust the tone of any colour you mix too.
If you learn to do this well then you will only ever need 5 tubes or tubs of paint whatever you are painting.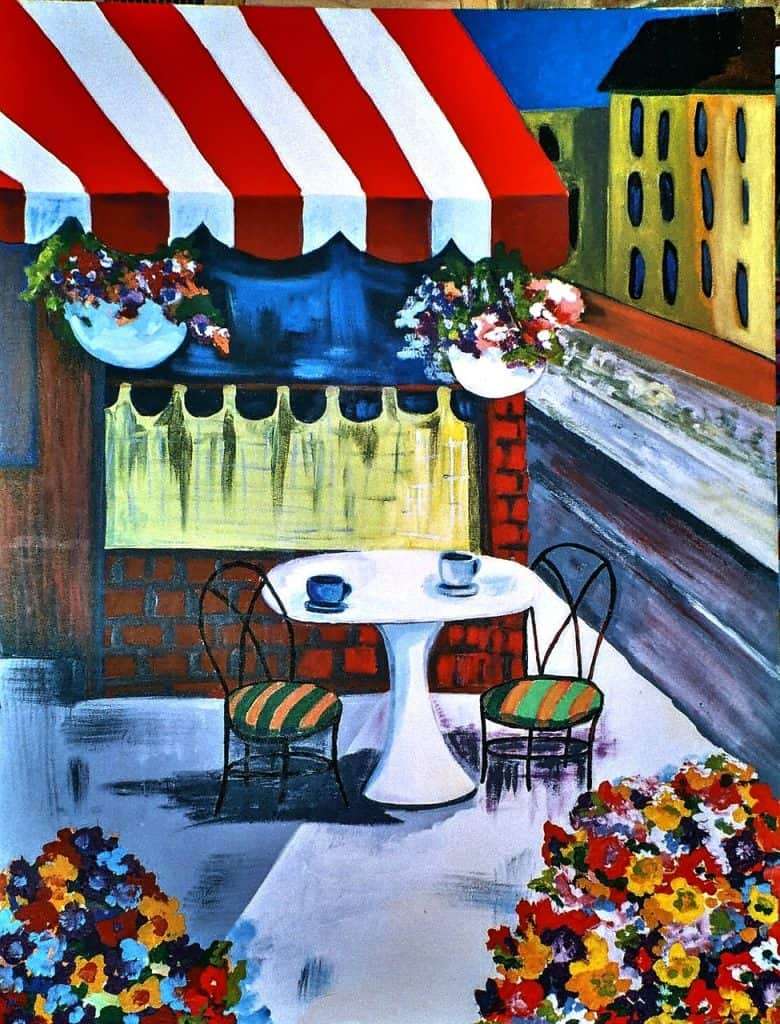 What are the disadvantages of acrylic paint?
Some people might say that the fact acrylic paints dry fast is a disadvantage when it comes to creating a gradient of colour on your paintings. This can be true but if you learn to paint fast it can also be an advantage. Learning how to use any paints is the key. Use their characteristics to your advantage.
Final Thoughts
To make the most of acrylic paints you will need to work fast because the paint dries quickly. You can paint on anything from paper to canvas and much more so they are really flexible.
Have all your colours in easy reach, with 2 tubs of clean water at all times. One for cleaning the brushes and one for thinning down any colours you need. Keep a dry cloth to wipe your brushes close by. Start with the darker colours and brush them in all over the painting. Then quickly wash and wipe your brush and work in the adjacent colours working from dark to light.
Don't overwork the painting at this point. Concentrate on getting all the colours on as quickly as you can. When all the colours are roughly applied, take a clean brush and lightly work the edges together to create the gradients of colour and tone you need. Using a slightly damp brush can sometimes help when you are doing this but don't use too much water. Make sure you always keep the brush clean.Cleaning your brush regularly makes sure everything doesn't end up a muddy brown colour.
When you have blended the edges you can take a smaller brush and begin to put in all the highlights and any fine details. Because acrylics dry so quickly, at this point you need to keep the brush slightly damp so help the colours mix. Work in the bold highlights with undiluted paint and then you can thn the paint and wash in the edges that look too bold.
If you let the layers of paint to dry completely, when you add the next colour you will get sharp defined edges and abrupt colour changes when you need them.