Peach is made by mixing a yellow and a red. Using white to adjust the tone lets you achieve the exact color you want.
Mixing Peach or any other colors to get the exact tones you need can be difficult. When you start there are ways to help you understand how to achieve the perfect color. With practice it will get easier.
With oil paints and watercolors you can mix them on the paper or canvas . Use a small blob of each color and a clean brush to mix the two colors together. Mix them until you have an evenly mixed color. Make sure you clean the brush before starting each time so there is no cross contamination of colors.
Because acrylics dry so much faster, you need to mix colors individually on your palette. Then paint the mixed color onto paper. Having a separate brush for each color can make this bit easier. Clean the brushes carefully each time they are used to stop unwanted contamination with other colors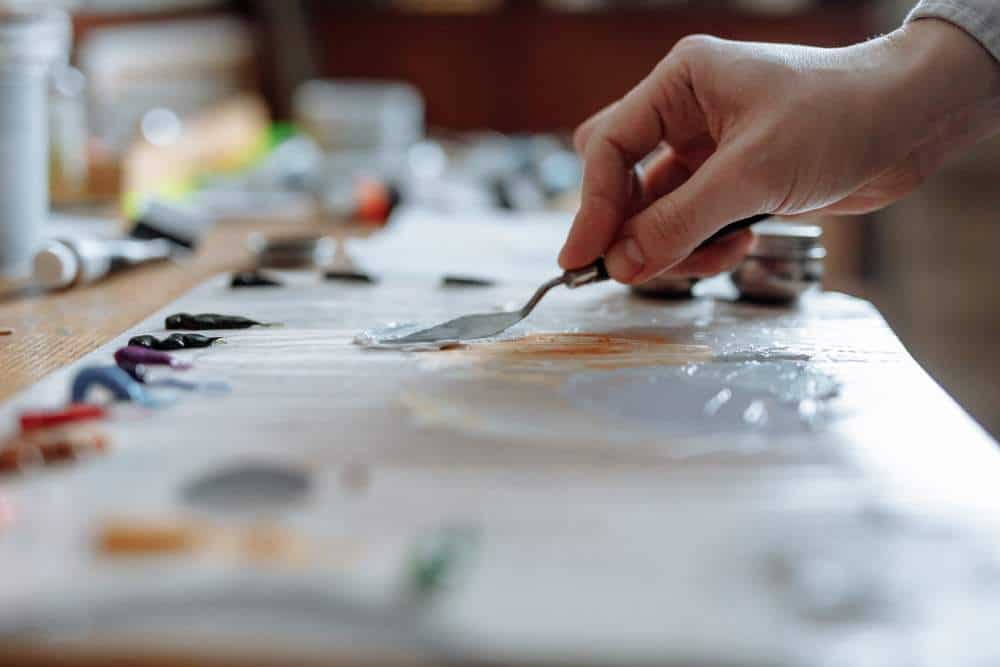 Creating A Color Wheel Or Chart Can Help And here Are Some Other Tips For You
Creating peach is a case of proportion. Its easy to see that there is some yellow a little red and some white to lighten the tones. Choosing the right amount of each color will take practice, but once you start you will see the differences and it will get easier
If you want to create the lighter color of the flesh of a peach you should start with white. If you are trying to capture the color of the skin of a peach, start with a light yellow first.
I tend to use primary colors to mix the colors i want. This may need more than two colors as you adjust the shade with white or black. If you have a comprehensive choice of colors to hand it can be done with 2 colors.
I would suggest two colors and white to lighten the tones is the easiest way to get a peach tone. Start with a little cadmium yellow paint and some vermillion or even cadmium red. Start with a small blob of yellow and add the vermillion. Gradually increase the amount of vermillion until you get the red tinted yellow we all recognise from peaches. Then add a little white at a time until you get the exact tone you want.
As you mix the white in, you may need to adjust the color by adding more yellow or vermillion. Just take your time and do it gradually until you get the exact tone you desire.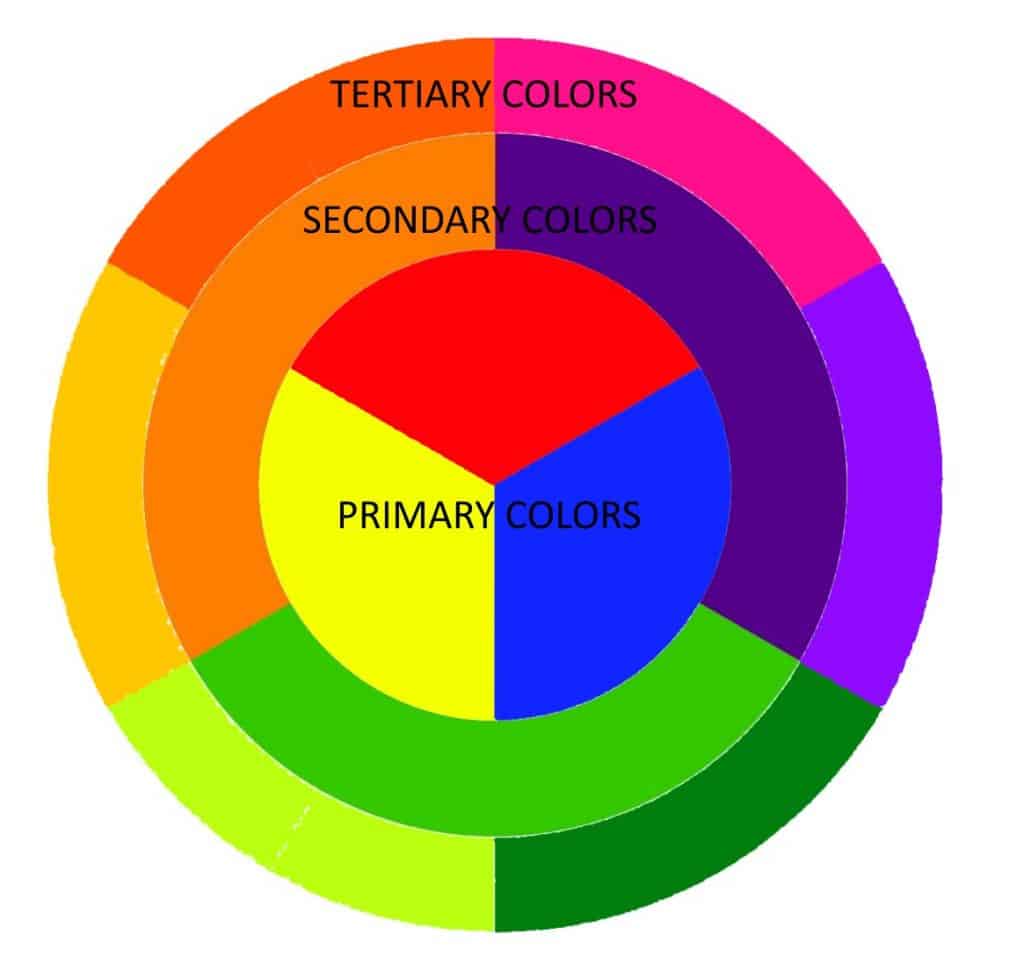 How Do I Mix Skin Tones?
Mixing skin tones can be challenging. There are so many different skin tones that there is no one answer to this question. I have a portrait of Einstein as an old man that I painted below. The amount of different shades and tones involved was quite mind-blowing.
Of course there are no two people who will have the exact same skin tone. But I hope my tips will help you achieve any skin color you may need.
White peoples skin is never white and black peoples skin will never be completely black. We are all shades in between.
A standard flesh tone can be made using yellow ochre with a tiny amount of true red. Then use white or ivory black to adjust the tone.
With someone of African descent who has very dark skin tones, adding burnt umber to the yellow ochre will give you a darker base color that you can work from.
For a pale white skin tone, add some zinc white to the initial yellow ochre and red mix. This will give you a great base color to work from.
In the portrait of Einstein you will see that there are blues and deep reds in places. These show the veins and arteries below the skin. This is because as white people grow older their skin becomes more translucent, showing the colors underneath the skin more.
The shadows and highlighted areas also require extra work to get right. Consider the strength and color of any light source too. This will also affect what what you see in the color and tone of the skin of the person you are painting.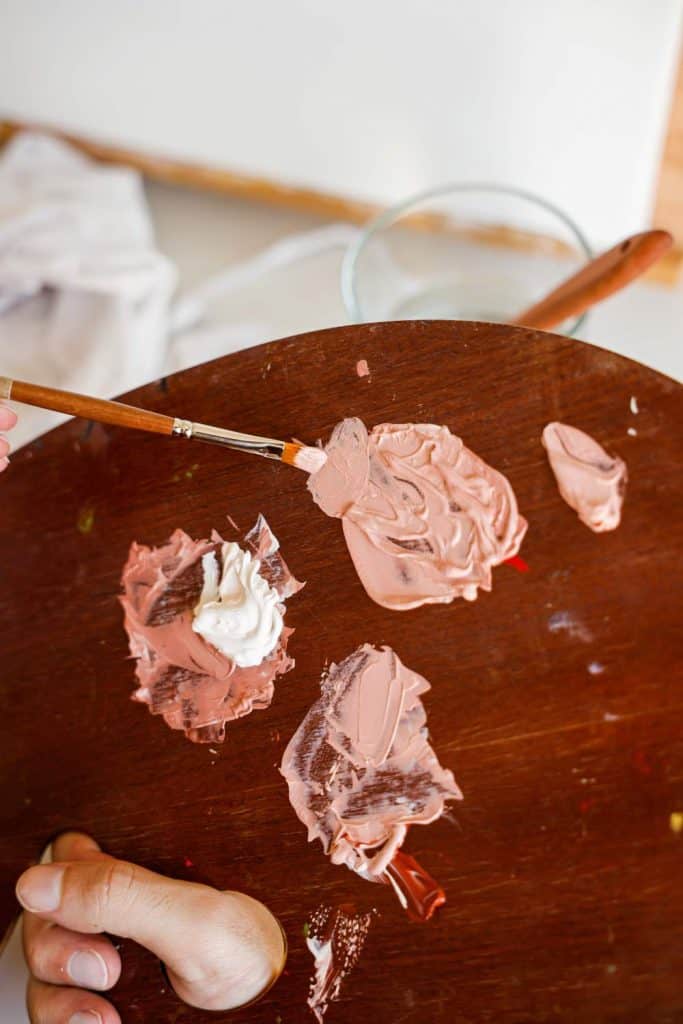 It Is All About Proportions
Start with a base color that you can then adjust tonally. Adding the right amount of white or black to adjust the tones is paramount. Do it a little at a time. Remember that even two people from the same family will never have exactly the same skin tone. Always consider the effect the light has on the final picture too.
What Two Colors Mixed together Make Green?
Green is made up of blue and yellow, but there are so many different greens that there are many options. If you have several blues and yellows in your paint box just experiment until you get the hue that you want.
A light Cyan mixed with a vibrant chromium yellow will give you a bright and warm green. Mixing a darker ultramarine blue with a lemon yellow will give you a cooler darker green.
When painting landscapes one of my favourite combinations is to mix yellow ochre with a small amount of paynes grey for an earthy green. The paynes grey has a lot of dark blue pigment and the earthy yellow ochre will turn it into a really useful green.
Using indigo blue with a Chrome yellow will give you a very different kind of green that is really striking. Ultramarine blue mixed with a cadmium yellow will give you another very different green again. Just experiment until you get the exact colors you need.
As with any color, once you have the shade you want you can adjust the tone. A small amount of white or black will give you the lightness or darkness you want.
What Two Colors Mixed Together Make Orange?
The easy answer is red and yellow will mix to give you an orange. If you want a deep rich orange you could start with a dark cadmium red and a cadmium yellow. If you want a more earthy orange the Venetian red and yellow ochre can make a great combination.
As with your other colors get used to trying different combinations you achieve the effect you want. The orange color of a classic Seville orange will need different colors than you would need to mix a deep rich Vermillion.
Try mixing the different red's and yellow's in your paint box to see the different colors you can achieve. Time spent practicing and understanding the amount of each color needed here is well spent. It can save you hours of time when it comes to getting the colors you want on a painting.
Take a pallet knife and spread a thick line of Cadmium yellow across a primed piece of paper, then put a small blob of each red you have next to the line about an inch apart. Mix the red across into the yellow gradually using less red as you move across the line to the next color.
Clean you knife or brush and do the same with the next red and carry on until you have done them all. Study the different colors you end up with closely and you will start to see which colors give the effect you want.
What Two colors Mixed Together Make Purple?
To mix purple you will need red and blue. Alizarin crimson mixed with cyan will give you a deep rich reddy purple because the alizarin crimson is a high pigment color which will try to dominate the colors it is mixed with. Using a deep ultramarine with a light cadmium red will give you a darker royal purple color. Using a cerulean blue with a little red ochre will give you a softer more lilac purple as the cerulean blue contains much more white pigment.
Each combination will give you a slightly different purple so experiment until you get the color you need. In time it will become obvious to you. When you see a color you will start to break it down into its component colors and over time this will get easier and easier until it just becomes natural.
Creating A Color Chart
There is a huge choice of paint colors on the market these days. So with most colors it's easy to just go and buy the closest color to the one that you need. The problem with that is you will end up with literally hundreds of tubes of paint.
The ability to mix any color that you need from a limited number of paints will be both more fulfilling and cheaper.
Creating color charts can be great fun too. It will work for oil paints, watercolors and acrylic paints so whatever you use, it is a lesson well worth learning.
Even with oil paints there is no need to use expensive canvas. You can simply prime some paper with white acrylic and it will work fine. If you are using watercolor use watercolor paper for the best results. With acrylics you will need to mix each color first and the key will be mixing the colors quickly. With watercolors and oils you can simply mix the paints on the paper.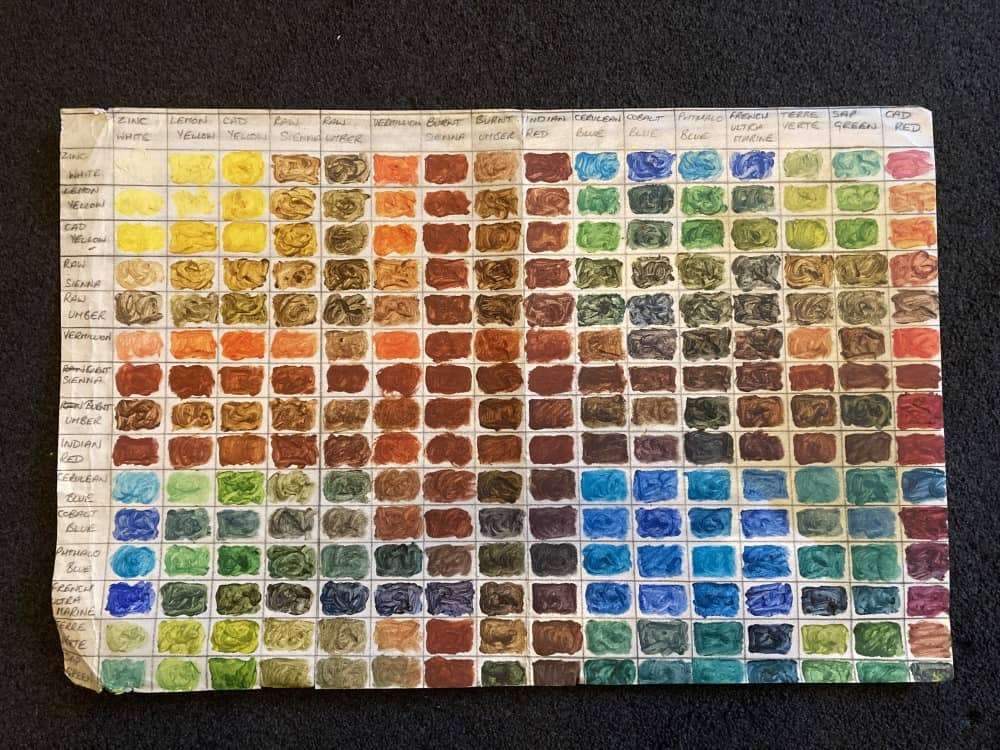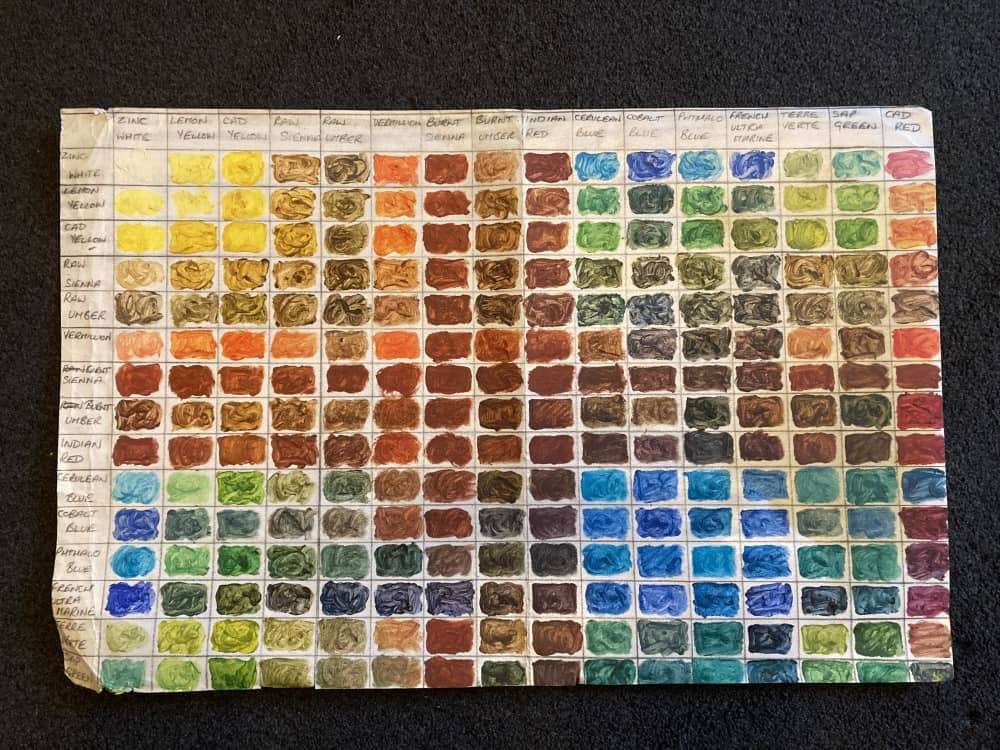 Getting The Basics Right
Use a large sheet of paper if you can and first draw a grid a grid. Count the number of different colors you want to include and draw a grid with enough columns and rows for each color you have. If you have 12 colors then draw a 12 by 12 grid, but any number of color combinations can be used. You simply want one row and one column for each color. Each box should be big enough for 2 distinct blobs of paint.
When you have drawn the grid write the name of the colors above each row and at the start of each column. If you have the space, arrange the paint tubes in the same order to make things easier. Cleaning your brushes is also vital, so remember to have a wash pot and also a pot of clean water or white spirit to make sure you only mix the colors you want to.
Different Kinds Of Paint React Differently
The technique with oil paints and watercolors is similar, you just need primed paper when using oil paints. Simply put a small blob of each color in every box below its name in the chart. Do the same for each row and try to make the blobs of color the same size. Do this for each color until every box in the grid has 2 blobs of color in. Then use a clean brush to mix the 2 colors in each box until you have an evenly mixed color. Make sure you clean the brush before starting the next box every time so there is no cross contamination of colors.
With acrylics because they dry so much faster you will need to mix each pair of colors individually and then paint the box with the mixed color. Having a separate brush for each color can make this bit easier. Clean the brushes carefully each time they are used, just as above, before you begin mixing the next 2 colors.
Understand The Chart You Have Created
At the end you will be left with a chart showing you the exact color you will get when mixing equal parts of any pair of colors in your collection. Studying the chart so it becomes familiar will in time mean you rarely need to reference it. But it is always good to have it handy and it can be folded and stuck in your sketch book easily so it is always close to hand.
With oil paints you will find certain colors have much higher pigment content than others. When used in equal amounts they will always dominate the color they are mixed with. Have some fun practicing, you will find new exciting colors and there will always be a surprise or two as you are learning.
I hope you enjoy creating a wonderful array of colors. Becoming familiar with their properties will make it much easier to get the specific shades and tones you want in every painting you do.
Final Thoughts
Remember, it is in the paint companies interest to sell you as many different colors as possible. This really isn't necessary. Buying a few high quality colors is better than buying lots of different colors that are poorer quality. If cost of materials is important to you, learn how to mix using a color wheel. You can achieve a myriad of colors from just 5 tubes of paint.
Choose a true yellow a true red and a cobalt blue with a tube of zinc white and ivory black and you have all the colors and tones you will ever need in just 5 tubes of paint. More colors can help you get the colors you want faster. However, learning to mix the exact colors you want from a set of primary colors is great practice and really satisfying.
Spend some time creating color wheels with different blues reds and yellows to see the combinations you get. This will help you decide which is the most useful set of colors for you.
Some tube colors are basic to understand. A true Chrome yellow is a very rich deep color, a Chrome yellow hue paint is simply a Chrome yellow mixed down with white. You can mix any color with Chrome yellow and white that you can with Chrome yellow hue. However, you cannot remove the white from Chrome yellow hue paint, so for me, I would always choose the Chrome yellow. It means if I need to I can add white for a lighter shade, but it always gives me more options than the tube of Chrome yellow hue can