Making a color chart is easy and great fun. The chart will teach you how to mix any color you could ever need. Learning the skills to mix any color from a limited number of paints is both fulfilling and cheaper.
There is a huge choice of paint colors on the market these days. So with most colors it's easy to just go and buy the closest color to the one that you need. The problem with that is you will end up with literally hundreds of tubes of paint.
Creating a Color Chart
You can make a color chart with oil paints, watercolors and acrylic paints so whatever you use, it is a lesson well worth learning.
With oil paints there is no need to use expensive canvas. You can simply prime some paper with clear or white acrylic paint and it will work fine. If you are using watercolor use watercolor paper for the best results. With acrylics you will need to mix each color first and the key will be mixing the colors quickly. With watercolors and oils you can simply mix the paints on the paper.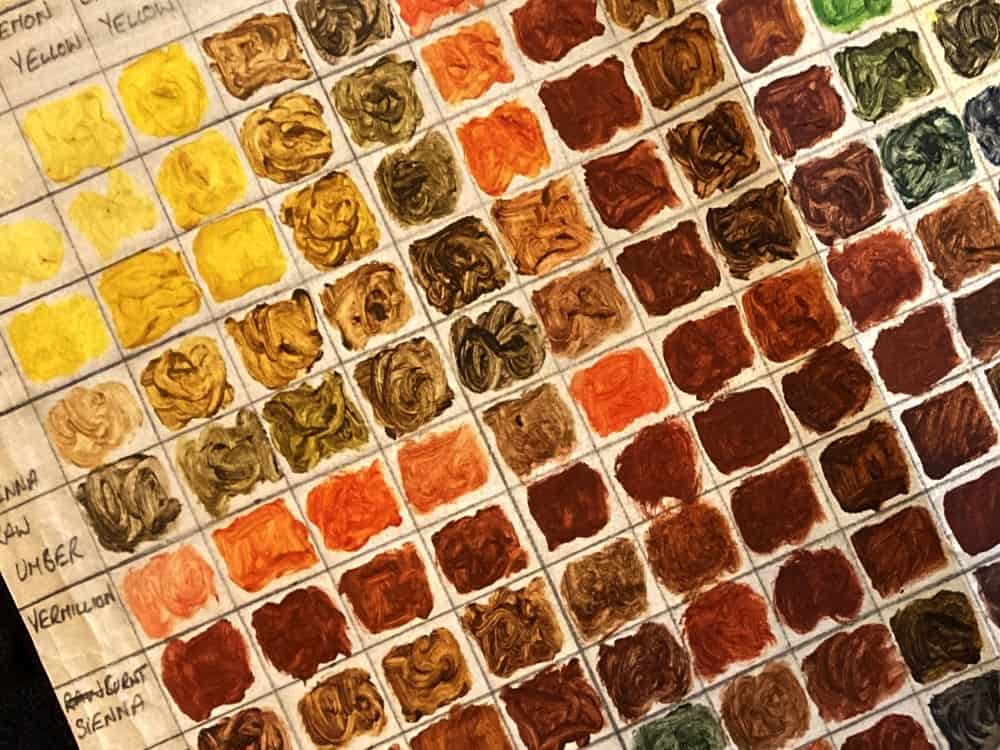 Getting The Basics Right
Use a large sheet of paper if you can and first draw a grid on it. Count the number of different colors you want to include and draw a grid with enough columns and rows for each color you have. If you have 12 colors then draw a 12 by 12 grid. Any number of color combinations can be used as long as it fits on the sheet of paper.
You simply want one row and one column for each color. Each box should be big enough for two distinct blobs of paint. You should leave some space around them too, so the colors next to them don't mix.
When you have drawn the grid write the name of the colors above each row and at the start of each column. I like to group similar colors so all my yellows are first. Then all my reds. Then any blue and earth colors. I organise the colors so lighter tones are to the left and darker tones to the right. This shows you a gradual change of tone in each color block across the chart.
If you have the space, arrange the paint tubes on your desk in the same order to make things easier. Cleaning your brushes is also vital. Have a wash pot and a pot of clean water or white spirit to make sure you don't contaminate the colors you want to mix.
Different Kinds Of Paint Work Differently
The technique is slightly different with different types of paint but the idea is the same.
Acrylic paint
With acrylic paint you do need to work faster. Put a small blob of the two kinds of paint you are mixing on the paper and mix the two colors straight away before they start to dry. When you have mixed one pair of colors move to the next. Remember to clean your brush thoroughly after painting each square.
The way I paint each square is simple. Just put the two blobs of the acrylic colors to be mixed in diagonally opposite corners of each square. Mix the colors in the centre of the square thoroughly so it is one even color. However, I try to leave a little of the original colors at each side. I mix these areas less so you get a glimpse of the other colors the same two original colors can make.
Oil paint
With oil paints I use a similar system, but because the paints don't dry as quickly, to save time I will add all the blobs of each color in their rows and columns first. Then I gradually work through all the colors until the whole grid is filled.
You will need to use primed paper when using oil paints.
Once you have all the colors on the sheet you can mix them one by one as before. Make sure you use a clean brush to mix each pair of colors. You also need to make sure you clean the brush before starting the next box every time. If you don't you will cross contaminate the colors.
Watercolors
With watercolor paints I add all the blobs of each color in their rows and columns first as we did with the oils. Then I add a little water and mix the colors in each square. As with oils, work through all the colors until the whole grid is filled
You will need to use watercolor paper when using watercolor paints.
As with oils and acrylics, make sure you use a clean brush on each square. Mix the two colors in each box until you have an evenly mixed color. You also need to clean your brush for every new box to avoid cross contamination of colors.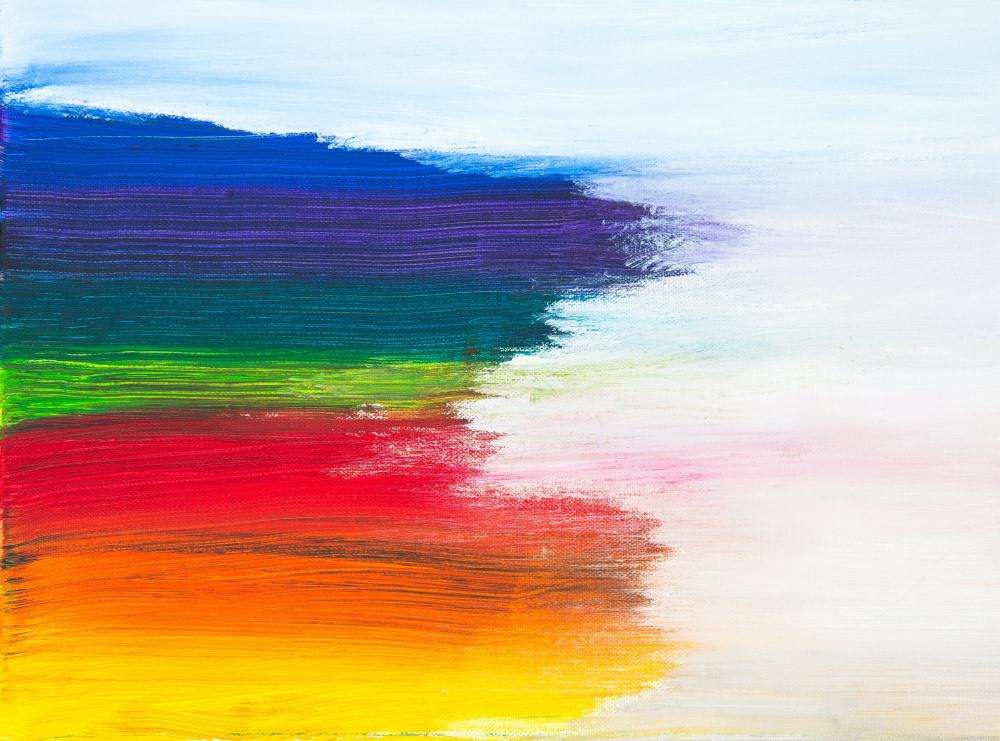 Understand The Chart You Have Created
At the end you will be left with a chart showing you the exact colors you will get when mixing equal parts of any pair of colors in your collection. Study the chart so it becomes familiar. After a while you just wont need to check as often. You will just know which colors to reach for.
It is always good to have it handy just in case though. It can be folded and stuck in your sketch book easily so it is always close to hand.
With oil paints you will find certain colors have much higher pigment content than others. When used in equal amounts they will always dominate the color they are mixed with. Have some fun practicing. You will find new exciting colors and there will always be a surprise or two as you are learning.
I hope you enjoy creating a wonderful array of colors. Becoming familiar with the properties of the paint will make it much easier to get the specific shades and tones you want. This will help in every painting you do.