Yes, you can sketch on canvas before painting. Most painters will do at least a rough sketch on the canvas before painting. This helps to get the proportions and position of things right before you start painting. You can use a pencil, charcoal, pastels or even thinned paint with a smaller brush just to get the idea of an outline. We go into detail on how to sketch on a canvas before painting below.
With Oils and acrylic paints all you want is a basic sketch really. It will be covered in the final painting. With watercolors you can draw in fine detail within the painting to help create a final piece that shows the drawing through the painting.
The Sketch can be used differently with different paints. Oil paint and acrylic paint will both cover the lines of the drawing. With watercolors you can use the sketch to highlight areas of the painting and help to delineate areas that need it. One great example would be drawing in the straight lines up the side of skyscrapers in a cityscape. If you don't want the pencil lines to show through you should sketch very lightly. Because watercolors are translucent they will show darker lines up if you draw too heavily.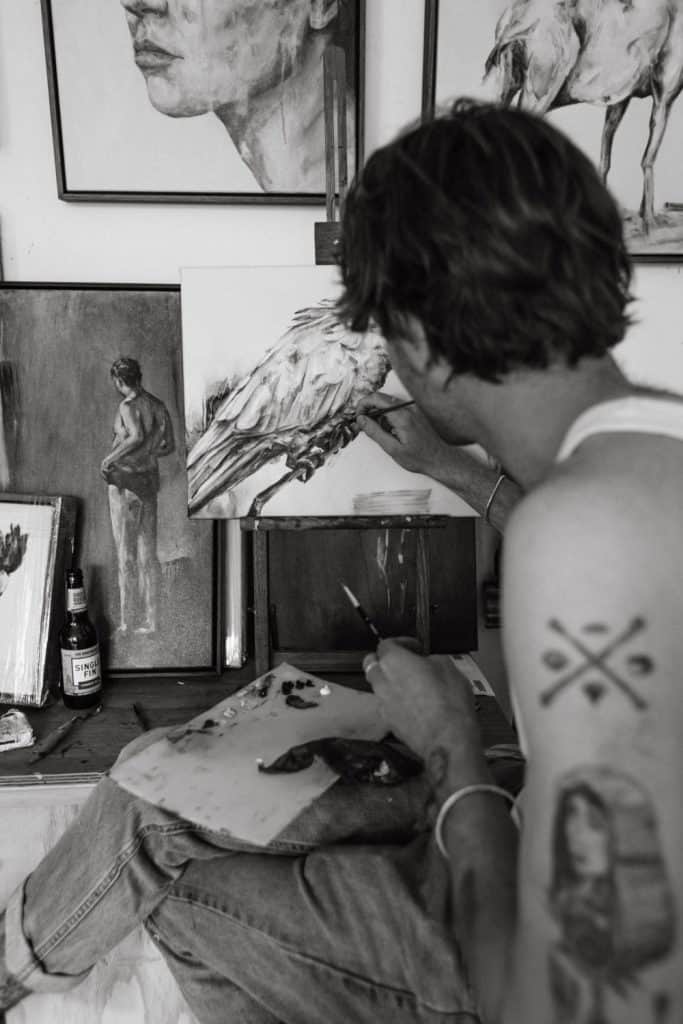 Why Should You Sketch On A Canvas Before Painting?
Sketching the basic outlines of your painting on the canvas can save you a lot of time later. It will help you to plan the painting and get the proportions right. It can also help with getting the perspective right in many paintings.
Don't make it too complex. All you want is a basic guide to help you keep the painting right. It makes it much harder to loose sight of the painting you are trying to create.
Anything that makes your painting easier is great in my opinion so go ahead, do some basic sketches and then try painting them. You will be amazed how much easier it can make things.
Some people may use a grid system to help them get the different parts of the painting right and this is a good way to keep everything in proportion. Seeing how big a tree in the foreground is compared to one in the background is much easier once you begin to sketch them in.
What Should I Use To Sketch On Canvas Before Painting?
A simple HB pencil is the best thing to use when you first sketch on canvas for a painting. Draw lightly to begin with so you leave less graphite on the canvas. All you need are basic outlines. Don't try to draw in all the fine detail, it is wasted time unless you are going to let the lines show through the final painting.
As you progress you may find it easier to use a darker pencil held lightly. However some people prefer to use a lighter colored 2H pencil. If you do, remember that the graphite in a 2H pencil is very hard, don't use a very fine tip and don't press on too hard when using canvas or you will damage the surface.
One thing worth trying is to do the sketch in pastel colors. It is easy to smudge and move the lines until you get everything just right. You can use similar colors to help you make a color map with the sketch too. This can also be done using thinned paint and a fairly soft pointed brush. Sketching with a brush might sound difficult but it can make sweeping lines very easy to achieve.
You can also use charcoal to sketch with. Try not to press on too hard. If you do you will leave more charcoal on the canvas than you want. Work lightly to create the basic shapes that you need.
How To Sketch On A Canvas Before Painting
Step 1: Prime The Canvas Surface
Before you sketch on canvas for a painting you need to prime the surface. For this you can use Gesso, acrylic paint or any good primer. I have even used spray primer meant for painting metal. It works well and dries really fast too.
The primer is used to create a good surface to paint on and it is the surface you will sketch onto. You want a smooth flat surface but it does need some texture so the paint applied on top has a good surface to stick to.
Step 2: Sketch a Basic Outline
Whether you use pencil, charcoal, pastels or paint, sketch lightly or with well thinned paint. You don't want anything too dark as it can detract from the final painting.
Sketch a very basic outline. Don't make things too complicated. Simple shapes are all you will need to guide your painting. If you are using pencil, charcoal or pastel colors a good putty rubber will lift off any unwanted lines. However, if you sketch very lightly any mistakes can often be blended away with charcoal or pastels.
Step 3: Try Sketching With Thinned Paint (Optional)
If you are using a thinned down paint then acrylics or watercolors make it very easy, mix the paint into a thin wash and use a soft brush with long bristles as it will hold more paint and allow the paint to flow for longer. This makes sweeping lines very easy.
You can use a single color for the sketch, but some people find using colors that reflect the colors to be painted on top easier. This gives you a basic color map so you can instantly see what colors you want in different parts of the painting.
It is more difficult to remove paint if you make a mistake. With acrylics you can just let the first layer dry and then paint over it, but with watercolors this won't work. You can use a brush dipped in clean water to dilute the color and spread it out but don't use too much water or you can damage the primed surface of the canvas.
Final Thoughts
Sketching your picture on the canvas before you paint can really help for some people. Others prefer not to, it is up to you to figure out what works best for you.
A simple sketch can help you map out the picture and get all the proportions and position of object right before you begin painting. This can save a lot of time and can save canvas and paint from being wasted.
A little time spent in the preparation stage can make it so much easier when it comes to starting the painting. It gives you a clear idea of the visual impact the painting will have and helps you get the proportions right.
It also helps me to get organised. By the time I have finished the sketch I will know most of the tools and colors I will need to achieve the finished piece. That way I can get everything I need ready, so when I begin painting everything is close to hand.
Changing a simple sketch until you get it right is much easier than trying to change a painting when you are halfway through.