You may think you cant draw and you may find it difficult, but drawing is a skill. With time, practice and patience you can. You may find it difficult to learn, but there are some tips and tricks below that will help.
Maybe you are being too harsh a critic. You might even be practicing the wrong way, But the most common factor is that as people, we tend to repeating the same mistakes once we have made them once.
Practice the right things
Focus your practicing. You do need to practice the right things in the right way as a beginner. The lessons you learn will stay with you so it is worth spending the time improving your drawing skills.
Here are some Simple Drawing Exercises For Beginners to take you through some basic exercises. They will help you improve your drawing. Go and have a read, try to put some of the exercises into practice and you will soon see your drawings improve.
Concentration is really important
One of the biggest mistakes people often make is not focussing entirely on the drawing when they are practicing. Any interruptions can really get in the way of your learning. Try to set aside some time when you wont be distracted.
People talking in the background might not seem important but you always find yourself hearing parts of the conversation. This is an example of how easily the brain can be distracted from the task you are trying to achieve.
Having a radio on might seem like a great idea, but anything that stops you concentrating completely on the drawing can get in the way. This can be a real problem for some in art classes, as there is constant distraction all around.
Formal lessons may work for some, but for others they can prove impossible and can get in the way of any improvement. This in turn can lower your self confidence which is a real problem.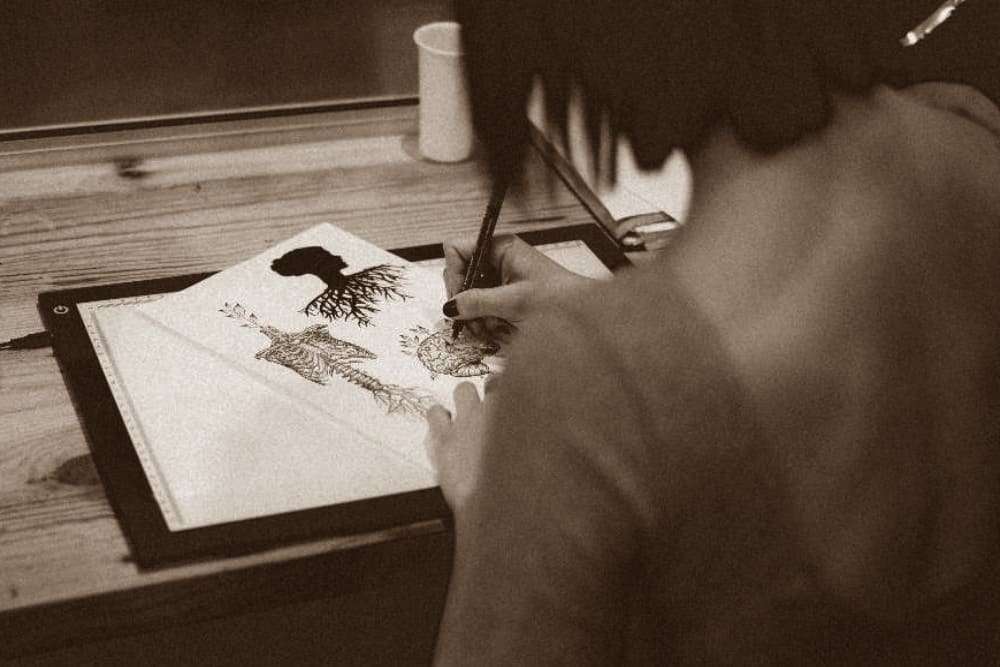 Entering the flow state
Artists have a term that they call entering the flow state. This is a mental state where time appears to stand still and you are completely focussed on the drawing or painting. It is a state of mind that relies on the right side of the brain taking over.
The right side of your brain controls the real creative side of your mind and this is the state of mind you should try to achieve to get the most from your practice.
Once the right side of your brain takes over, you can achieve much better results. It isn't easy, especially in the modern world where so many distractions rule our lives, but it is possible.
Try to set aside time when you know no one will be around. Turn off any telephones and computers and you could even hang a "Do not disturb" sign on the door.
Creating time for yourself to practice properly is the best way to improve your art.
Don't expect perfection
We are often more critical of ourselves than we should be. Try not to expect your results to be perfect and don't even expect them to be good at the start.
Blind contour drawing is a great example of this. The results are much less important than the process. Practicing it will help your hand to eye coordination and in the end will help you improve your drawing skills.
Scribble drawing is another method that relies less on results and also gives you the ability to look beyond the mistakes you might be making. Try it, Again I will say, the results are less important than the fact you are training the right side of your brain to connect the movements of your hand to what your eye actually sees.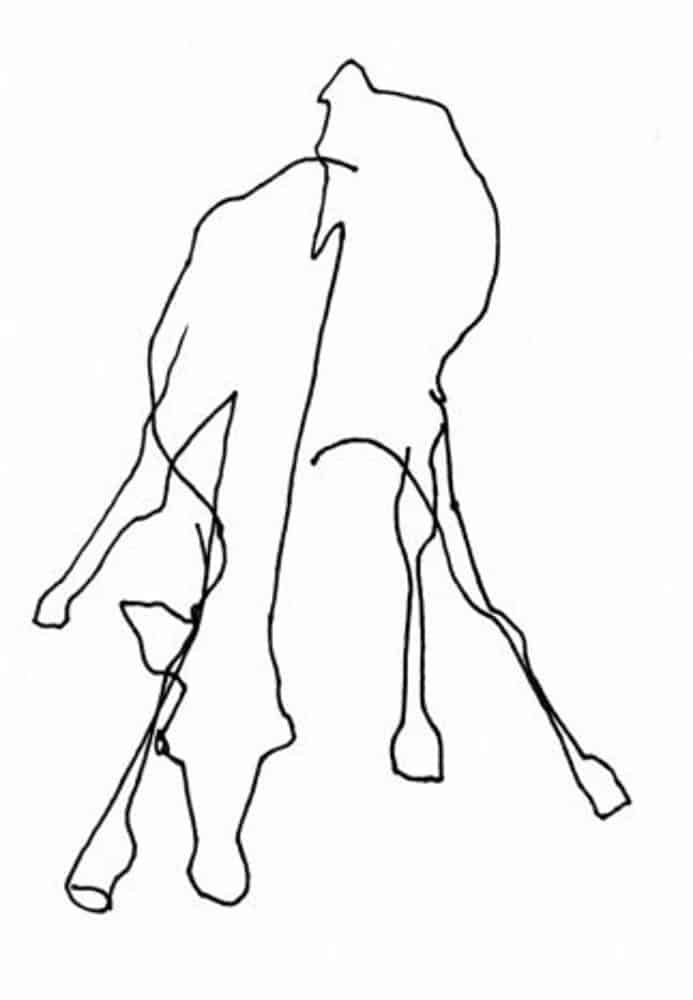 Getting the proportions right
If you don't get the proportions right in a drawing it will never look good. Understanding perspective and the relative size of objects in a picture is not an easy task. In our article about understanding perspective we go into detail about how you can use perspective to improve the depth perception of any drawing.
The other really important factor most people don't understand is that our sight is affected by our brains internal knowledge every second of the day. Our eyes see in a similar way to how an old film projects. It takes a single moment of the image in time very quickly and then joins it to the next.
This process means that there are gaps between frames. Our brain fills in these gaps because it "Knows" what should be there. The problem is that it isn't always right. To override this process is very difficult. It is one of the reasons we are prone to making the same mistakes over and over again.
'Observation is so much more than looking. You need to focus your attention as much as possible'.
I have talked in other articles about the trick I learned from an old art tutor. He simply turned the picture I was trying to draw upside down and said "Now do it". It was hard, very hard. However, after a lot of failures it started to teach my brain to see what was actually there rather than what I thought was there.
Turning the image you are drawing from upside down confuses the brain and instead of seeing what you think is there, you begin to see the actual image. This is because the brain has no reference in the way it would if the picture was the right way up.
Don't be too hard on yourself
None of the methods are perfect. None will solve the problem completely for everyone. We are all different and learn differently. However, used together they all helped me improve my drawing.
I still find painting easier, and you may too. So don't get down on yourself, you can draw, even if it isn't to the standard you want to. In time, with practice you will get better.
Drawing should be a pleasure, enjoy the process even if the results aren't up to the standard you want. We are often our worst critic and this is another thing that can get in the way. If you tell yourself you can't draw often enough it is likely you won't improve so much. When you do improve you are less likely to see those improvements too.
Try to break the cycle by telling yourself as often as possible that you can draw. Recognise each minor improvement, however small and congratulate yourself for it. Praise yourself for learning another small piece of the lesson.
This praise will gradually increase your self confidence. As your self confidence about your drawing grows so will your drawing. It isn't an easy process but you can do it.
Some days will always be better than others. If you are having a bad day recognise that and maybe take a break. Don't let the negative thinking transfer to the drawing. Always try to look for the positives in what you draw. However small they may seem. Each one is part of the process.
Don't Underestimate the background
Another way to try and Improve your observational skills and not let your brains idea of what something looks like take over is to draw the background first. Instead of drawing the object itself, concentrate all your initial drawing on the background.
Really focus on everything that makes up the background. Try to draw and place each part as well as you can. Just leave a space where the main focus of the drawing is. Then, when you have sketched out all the background, use the reference points that you have already drawn to finish drawing the main focus.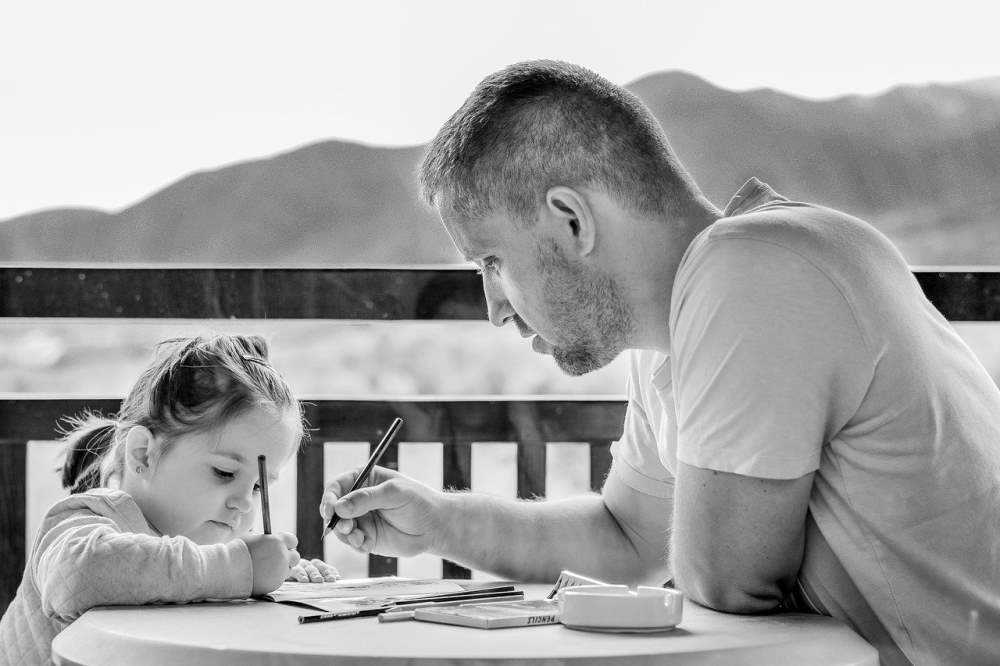 Practice shading
Shading is as integral to drawing as lines are. In our article "Why is shading so hard" I show you different ways to practice and improve your shading. As with everything else it will take time and practice, but it all helps.
Learn about the different methods to make something appear darker and lighter. Learn how to control the levels of shading within the two extremes of darkest and lightest.
Create practice sheets and try different methods to achieve what you want to. Darkness isn't just achieved by using a blacker pencil grade. There are multiple ways to make things look darker.
Always remember, the lighter the overall image is, the darker the deeper shade will appear. If the drawing is very dark to begin with it is almost impossible to create deep shadow or shade within the picture. Understand this and you have learnt a valuable lesson.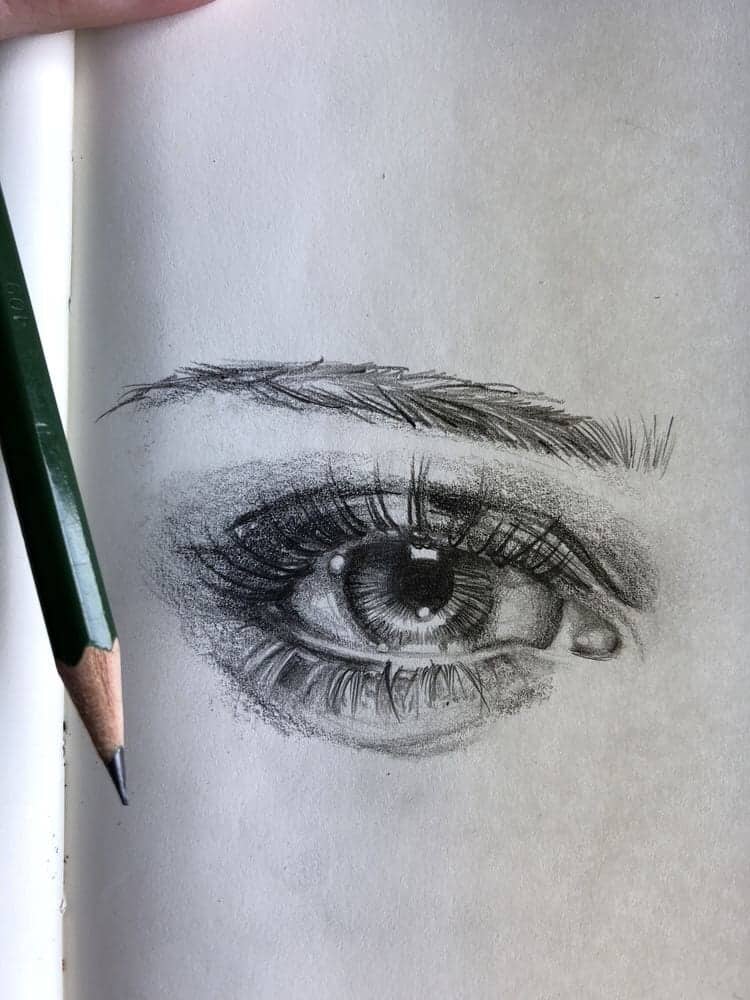 Additional resources
We have many drawing tutorials published here now so there should be something to keep most people interested. If you want something specific leave a comment in the space below. You may think Why Do My Drawings Look Bad and this is another area I have spent time trying to understand.
You can teach yourself to draw but it can sometimes be a slow process. You will need to practice before you see real improvement. Learning any new skill is often easier the younger you are but it is perfectly possible at any age.
Not only is it possible to learn how to draw, it has some fantastic benefits. You can treat it as a hobby.
Drawing can make you smarter too. We have looked at this in great detail and studied the real scientific results people have found with recent research. Even if you don't think your drawing is good, it can help your life in a number of different ways.
I hope this helps you to explore the world of art more. It really is a fascinating world. Thanks for reading..