No, drawing isn't harder than painting, it is just different. Some artists will be better at drawing while others will find painting easier. One thing that does play a part is that many people begin drawing before they start to paint. That gives them a head start when it comes to drawing skills.
The earlier you begin practicing a skill the faster you are likely to learn. And the longer you have practiced any skill the better you will get. So for people who began drawing first, they will often find drawing easier.
Ask yourself which you find easier
The two skills do have common factors, but there are differences in both the skills. Drawing relies much more on the lines and form of the object you are drawing. Color can be used if you are drawing with ink or pastels, but most drawing is monochrome. One color will dominate the drawing, with tonal shading creating the shape and 3-dimensional aspects within the drawing.
Painting is based much more on the use of color and texture to achieve the final piece of art. If your understanding of color theory is good and you control color well, then it may well be that you actually find painting easier.
Whether you find drawing or painting easier, you can improve at both with practice. Some artists will use drawing to set out the format and basic details of a painting before they actually start painting, but not all artists work like this. Some painters with go straight for a brush and adapt the painting as they progress.
In our article "What is the difference between drawing and painting?" we look at the differences in detail.
Learning to understand color theory
We have several articles about color theory if you want to understand more. From understanding what a color wheel is to grasping the basics of primary colors and secondary colors we have tried to explain things in simple terms to avoid the confusion caused by articles that are written in technical language.
We also look at color temperature and how to use color to add feeling to a painting. These are all things that you will need to learn to make your paintings as good as possible.
Some further useful information
If you look at our article "What Is The Best Drawing In The World?" You will see why I say personally that painting is not necessarily harder than painting. Some of the drawings are so skilfully created I can't conceive how I would even have approached the creation of them.
Our article "5 Simple Drawing Exercises For Beginners" will help you learn the basics so you can improve on the drawings you do. Remember, with practice you will improve, it is the most important lesson for any artist. Whether painting or drawing, practice will always give you better results in time.
Some people find shading really hard, and it is a special skill that will improve your drawing dramatically. Learning how to shade properly will transform your drawings.
In our article "Can I Paint If I Can't Draw?" we look at why it is perfectly possible for someone who finds drawing difficult to just use paint if they find it easier. There are few hard and fast rules when it comes to art, which is one of the things I love so much about it.
In another article called "Can You Teach Yourself To Draw?" we look at how you can begin to improve your drawings. It is a great place to start if you want to improve your drawing skills but don't want to enrol in a formal course.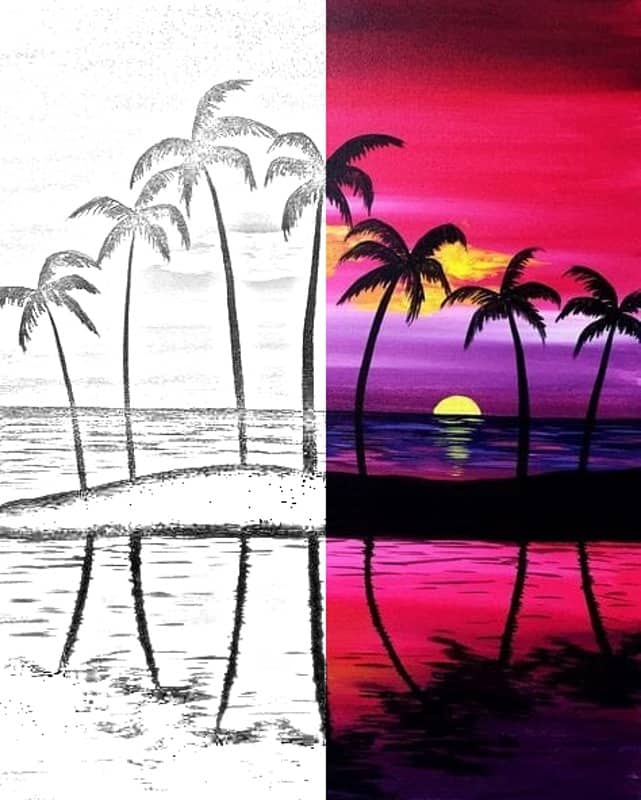 Should I learn to draw or paint first?
This is entirely a matter of choice. As I have said above, some people like myself just find painting easier. My drawing skills aren't bad, but I simply find painting easier. This probably means I have practiced my painting skills more over the years I have been painting. In turn that is probably one of the reasons I now find it easier.
Most formal art courses will insist that you learn to draw before moving on to the use of paint. However, it isn't always necessary. Being interested in what you are doing and enjoying practicing will teach you a lot more than anything else. So if you are more interested in painting, it may well be that the easiest way for you to learn is just to jump in and enjoy practicing painting in order to learn.
The choice is yours
If you find drawing easier then maybe start to introduce more color into your drawings. You can do this with pastels, ink or watercolor paints if you want to. You don't have to simply use colored pens. As you use color more you will see the effect it has on your drawing. This may be all that is needed to inspire you to practice painting more.
Both drawing and painting are fantastic skills to have. Learning to improve them both may take time but it is worth it in many ways you would never have considered. Both will teach you how to understand perspective and how to create depth in your paintings and drawings. Both make great and challenging hobbies and they have the added bonus that both will actually make you smarter too.
An added benefit
In our article "Can Drawing Make You Smarter? " we look at the scientific proof of why. This isn't just a fanciful dream. Both drawing and painting exercise the brain in ways you might not have considered and the exercise of doing them can improve your life in many ways.
Final thoughts
Whatever you choose to do first, don't be put off by mistakes you make. Some you will be able to correct but even if you can't, you will learn lessons from those mistakes. In time you will figure out the best way for you to learn. We are all different, and the way we learn is different too.
So go and pick up a pencil, piece of charcoal or a brush and just enjoy practicing. Choose a subject you have a passion for and just enjoy the process of learning. I have filled countless pieces of paper with shading just to see how I can get darker and lighter tones from the same pencil. I have also filled just as many sheets of paper with random colors to learn about how colors change and interact.
I keep many of these practice pieces so I can refer back to them if I ever need to. Remembering the lessons we have learned is something that we should all do throughout our lives. Too often we forget, and make the same mistakes over and over again. Celebrate and analyse the mistakes you do make so you can learn as much as possible from every one.
These are some of the many lessons that will make you a better artist.